Not all medical supply companies are created equally. When it comes to getting your supplies delivered to your door, you need to deal with a company you can trust. But how can you know whether Home Care Delivered or J&B Medical has a better reputation?
To find out, we analyzed online customer reviews to see how we stack up against the competition. Here's how we did:
The Numbers Don't Lie
Only 33 percent of J&B Medical's reviews were positive. Compare that to HCD's 94 percent positive review rate, and the results are clear: HCD customers are more satisfied than J&B Medical's customers.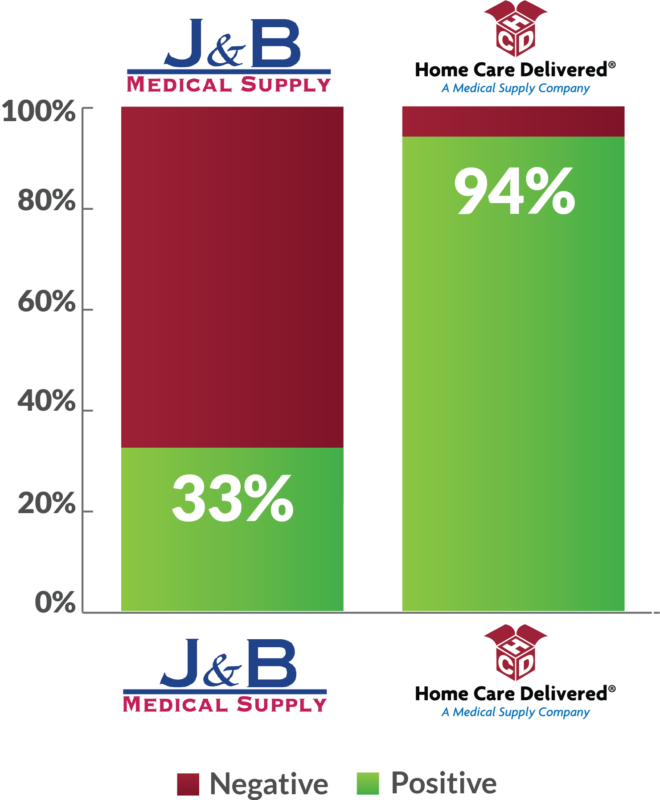 Poor Customer Service
J&B Medical customers had a lot to say about the representatives they spoke to, and that's only when they could get someone on the line. Wait times were reported to be about 20 to 40 minutes, and even after those long hold times, customers are sometimes mysteriously disconnected. When customers did get to talk to a representative, here's what their experiences were like:
J&B Medical


"If I could give them a negative rating – I would. J&B Medical's customer service is by far the worst I have ever encountered from any company. Their employees do not know the products they are supplying, I have been lied to several times (receiving different answers each time I called back,) and they constantly 'misplace' prescriptions and orders."
---
J&B Medical


"This place has the worst customer service. I've paid, and they do not send out my shipment. I have bank records to prove it. They tell me each time I didn't pay my deductible, which is false. The hold times are horrendous. I just don't get it!"
---
How HCD Provides Better Customer Service
At HCD, our teammates genuinely care about our customers. We understand the importance of our service and are knowledgeable and respectful. This is what customers have to say about our teammates:
Home Care Delivered


"The girl I spoke with to set everything up for my son. She was wonderful and literally took care of everything. She was so polite and well mannered. It made me feel at ease when she followed up with a callback. She let me know that everything was taken care of in regards to ordering supplies and getting the orders from my son's doctor."
---
Home Care Delivered


"My experience has been over five stars. They get you the best quality when it comes to your needs. They treat you like family, not like a customer. I really appreciate you all from the bottom of my heart."
---
Customer Service at HCD:
Compassionate and well-trained customer service representatives
Expert support from Registered Nurses and trained product experts
Regular check-ins to help ensure accurate orders and customer satisfaction
Longer Delivery Times & Delays
J&B customers sometimes wait weeks for their deliveries, an issue that impacts their health in a big way:
J&B Medical


"I am not asking for a donation, I am asking for what is rightfully my children's lifeline. I am exploring other options with my insurance company, and I do believe that if I have a choice, I will never go back to this company to be in charge of keeping my boys alive. One month supplies DO NOT COME EVERY 45 DAYS. IT SHOULD BE DELIVERED EVERY 30 DAYS."
---
J&B Medical


"I obtained the money for the copay, but was informed that because of all of the delays that the pump would be covered under this year's deductible plan, but the CGM would not be ready on time as I was put at the back of the priority list and that I would not receive the CGM until next year and because of that that I would need to cover most of or all of the total cost of the CGM in order to meet my copay and deductible for the new calendar year."
---
How HCD Helps Ensure Fast and Accurate Orders
The average wait time for delivery from HCD is one to two business days. Even in the case of a natural disaster, HCD works with other medical supply companies to be sure you get your important supplies. At HCD, we are committed to delivering your products on time every time. We have options like online ordering and Text-to-Reorder, that let you reorder supplies at any time. Plus, we are proactive about expiring paperwork, so there are no delays in receiving your supplies.
Home Care Delivered


"Products arrived discreetly and a day earlier than expected. Polite customer service representatives and the whole process of getting the paperwork to the doctor and back took less than a week."
---
Home Care Delivered


"I'm so happy my supplies are ordered and delivered privately and on time every month. Excellent service and very nice customer service. I'll use them every time."
---
Deliveries at HCD:
Proactive paperwork and insurance re-verification
Monthly service calls to help ensure customer satisfaction
Nationwide shipping with most deliveries within 1-2 business days
Order by phone or 24/7 through HCD Online or Text-To-Reorder
Inaccurate Information
J&B customers reporting speaking with representatives who seemingly don't know what they're talking about:
J&B Medical


"This is the worst company I have ever dealt with. Customer service reps have given me so much misinformation, starting with the statement that my CGM and supplies would cost me nothing, to over three months later saying I had to meet my deductible, and the first month would be over $500.00! I called the company repeatedly and was given the run around time after time. A one star is a joke; I would give a negative ten if possible."
---
Choose HCD To Get the Customer Experience You Deserve
When it comes to medical supplies and insurance information, things can get complicated. Luckily our teammates at HCD are trained by experts. HCD teammates are knowledgeable and helpful. We have product and insurance experts who are more than happy to help. If you're an HCD customer, our team will work hard to ensure you have the right product for you. We want to help you be well-informed about your insurance coverage.
Home Care Delivered


"Very helpful… understanding of medical terms and conditions. They work with you to find the right product."
---
At HCD, we care about our customers, and it shows in everything we do. We are knowledgeable, compassionate, and we deliver supplies on time. You deserve the best; that means quality medical supplies and friendly service, you deserve HCD. Sign up here. Let us show you how HCD has the highest customer satisfaction rating.
Start Your Medical Supply Deliveries
Study Methodology
The data used in this study is based on all publicly-available reviews from the companies mentioned in this article, as of February 20, 2019. These reviews came from sites such as BBB, Yelp, Google, and TrustPilot.
Once each company's reviews were collected, they were run through the MonkeyLearn sentiment analysis module to determine positive and negative sentiment through their standardized artificial-intelligence-based platform.
Customer Reviews
Disclaimer:
Unless otherwise noted, the recommendations in this document were obtained from the sources indicated. Be advised that information contained herein is intended to serve as a useful reference for informational purposes only. HCD cannot be held responsible for the continued accuracy of or for any errors or omissions in the information. All trademarks and registered trademarks are the property of their respective owners.