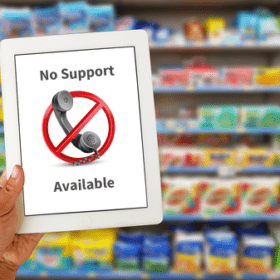 If you buy incontinence supplies, there's a good chance you're getting them from a brick-and-mortar shop or online retailer. That could be a major mistake. Traditional retailers may be fine for some purchases, but when it comes to healthcare, it turns out they aren't the best choice. In fact, they could be detrimental to your incontinence management.  
The most important thing to realize about traditional retailers is that they are NOT part of the healthcare industry. They're just stores, and that means they can't offer the same level of support and care that should be part of your treatment plan. Managing a condition like incontinence requires special attention that goes beyond a simple product order, and retailers won't give that to you.
The quality of your health is too important to leave to a retailer. When deciding where you should get your incontinence supplies, here's four things to consider:
It Can Be Expensive
Many turn to retailers thinking that they're the most economical option for supplies, but actually, it could end up costing you a lot. This is because retailers can't bill your health insurance for your incontinence supplies.
The average person spends $1,300 a year on incontinence supplies. If you're getting products from a retailer, then you're paying it out of pocket. If, however, you get your supplies from a medical supplier, then it may be possible to use your insurance benefits to cover the cost. You didn't know you may be able to use your Medicaid or private insurance to get medical supplies? It's true!
To use your health insurance benefits to cover the cost of incontinence supplies, you should seek a medical supplier that's equipped to work with your doctor and insurance provider, like us. Most retailers don't do this, which means you'll end up paying that $1,300 per year from your own pocket.If you take the time up front to see your doctor and help your medical supply company get the paperwork they need, you'll end up saving in the end.
There's No Product Support
Choosing incontinence supplies isn't the same as picking a new pair of shoes or kitchen utensil. It's a big decision that has a direct impact on your health and happiness, and retailers can't help you choose the right one.
Unlike a medical supplier, retailers do not staff product experts that can assess your needs and determine what products (or combination of products) will give you the best success in managing your condition. They also don't have access to your health and medical records to make an informed decision  You could end up wasting money on products you can't use, aren't right for you, or worse: make things even worse. It's much riskier making health decisions with a retailer, because chances are you'll be making them alone.
Customer Service Is Very Limited
Many retailers pride themselves on their customer service. They respond quickly to returns and exchanges, and often have great policies for handling defective products. But when it comes to health care products, that's not the kind of customer service you need.
The service you want should be centered in understanding the products and how they relate to your needs. You want to know how to use the product correctly, how to define your symptoms, and how to know when it's time for different solutions. You won't find this kind of expertise in a retail store or call center. In order to get back to living your life in good health, you need that kind of support.
Monthly Delivery Options Are Almost Non-Existent
Incontinence supplies are a recurring and private product need, so some people turn to online retailers in search of subscription service to make delivery easier. But here's the catch: of the many products available, only a handful are usually available for delivery.  
Often, retailers don't provide their full selection for monthly recurring deliveries. Often, these supplies are not packaged for monthly needs, which means you'll be constantly returning to place more orders. This can make it very hard to ensure that your supplies are there for you when you need them. Because medical suppliers are set up for monthly delivery of supplies, they can anticipate your needs and make sure you receive supplies before you run out. But if you're shopping at a retailer, this needs to be on your shopping list often!
Retailers are perfect for purchasing consumer goods, but getting incontinence supplies is best left to the experts at Home Care Delivered; people who are part of the healthcare solution. Medical supply companies like us simply provide a better experience that takes your health and happiness seriously.  
Not Ready Yet?
Try our Incontinence Product Finder:
Find the Right Product
See Your Insurance Eligibility
Enroll Online and Save!
Incontinence Product Finder!