Medline vs HCD – Who Is A Better Medical Supplier?
When it comes to getting the medical supplies you need, choose a supplier you can trust. So, who should you choose, Home Care Delivered or Medline? To find out, we've decided to ask actual customers.
We collected and analyzed every publicly-available customer review of Medline and then compared them to our own. The results speak for themselves…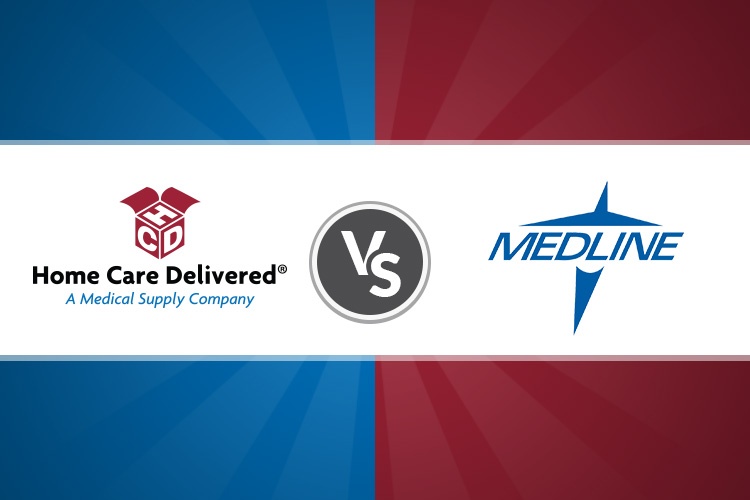 HCD Customers Are Much More Satisfied Than Medline's
The customer reviews paint a clear picture: Medline customers are frustrated with the experience they receive from their supplier.. Consider this: 68% of Medline customer reviews are negative. The full methodology used in this study is below.
Medline Customers Spend More Time Waiting on Hold
Talking to a representative when you have a problem can be a hassle at Medline. Multiple customer reviews describe waiting on the phone for up to 40 minutes to talk to a live person. When they finally do get through, there's no guarantee the problem will be fixed quickly, or at all. Here's just one customer's experience:

"This company is a complete DISASTER! First you wait for service representative for 40 minutes just to find out that the order you were waiting for is completely messed up, they can't find the documents the doctor sent to them, they can't find the insurance ID, etc. Do not use it if you can, I am reporting them to BBB."
At HCD, our customers don't seem to have these problems. Our customers are helped quickly; spending an average of only 4 minutes on hold. Our customer reviews don't mention long wait times, because our customers simply don't experience them. See the HCD difference for yourself:

"Home Care Deliver[ed] is the best in calling me with my reminders that I have an order ready to be shipped. The customer service representatives are so friendly and respectful. I know when I call Home Care Deliver[ed], I am going to speak to a respectful representative and my concerns will be satisfied on the first call. Thank you for ALWAYS making sure I have my supply of items needed.""
How HCD Speeds Up Customer Service
Average hold time for all calls just 4 minutes
Instant Callbacks in 60 seconds or less
24/7 re-ordering options for most products
Medline Customers Experience Rude and Unhelpful Customer Service
At Medline, customer frustrations don't end when someone finally picks up the phone. Several customer reviews report dealing with rude customer service representatives. Here's just a sample:

"It takes at least 30 minutes on hold to get to a live person in Customer Service. Rude. Rude. Rude. Refused to give me a date my knee walker would arrive so was on crutches which are very difficult in snow… Their promises are empty. No one will call back as promised. Terrible service. Rude heartless people!"

"Worst company, save the aggravation. My mother receives "monthly" pullups and wipes. It is supposed to be automated. However, they never ship, and I have to call every month, since it is delayed her order keeps arriving later and later in the month. Customer service is rude. Don't use this company unless you have plenty of time and like to talk with rude representatives."
According to its customers, Medline customer support is less than helpful. Customers have to stay on top of their orders and care, often having to go out of their way just to tell Medline when they need to reorder. At HCD, we operate differently. We believe that you shouldn't have to worry about getting the supplies you need when you need them. For those who don't prefer the phone, we offer convenient reordering options like
HCD Online
and
Text-To Reorder
that let customers place orders any time of the day or night for most product categories. We even proactively take care of things like expiring paperwork so you don't have to worry about it. And, if you have a question or concern, our caring experts are ready to help. Just read how our customers describe us:

"My son is autistic and receives pull ups from you. Everyone has been very polite when I talk to your reps. When your rep. tells me he will receive his supply on a certain date, he gets them on that date. I am very pleased with "Home Care Delivered". Thanks for all your love and care for my son."

"Home care delivered calls me every month! This is so helpful to me because I am so busy all the time that I would forget to order my daughter's pull up diapers. They save me hundreds of dollars every month since my child's insurance covers diapers and Home Care Delivered brings them right to me. I am very grateful for this company and they are the most convenient and stress-free service that my child receives through Medicaid."
How HCD Provides Better Customer Service
Compassionate and well-trained customer service representatives
Expert support from Registered Nurses and trained product experts
Regular check-ins to help ensure accurate orders and customer satisfaction
Medline Customers Deal with Incorrect Orders and Late Deliveries
For Medline customers, their orders may not be there when they're most needed. Some customers' reviews mention receiving wrong orders with missing or incorrect products. Other customers talk about never receiving their order at all, or receiving it late.

"Purchased a Medline over the toilet safety rail for my Mom. Was shipped two right hand rails — so could not use. Medline… blamed the shipper and said they must have messed up on the packaging even though the item came packaged in a Medline box. Very rude — and would do nothing. Based on this callousness, never again."
At HCD, we've taken steps to help make sure you receive the right products on-time, every time. We proactively alert you about available orders, and we offer convenient ways to place orders 24/7 for most products. Our team also processes paperwork quickly and efficiently to make sure orders are shipped as soon as possible, and arrive within 1-2 business days for most customers. Read what it's like to get orders from HCD below.

"Very good Customer support, both automatic or people service is so intuitive and always send reminder by phone and e-mail. Online order give option to schedule to set future reminders and order supplies later date. If order were not placed for longer period online, HCD promptly make phone call to take orders by phone. With HCD, it will be very hard for anybody to miss ordering supplies every single month and hard to ran out of supplies at home."
How HCD Helps Ensure Fast and Accurate Orders
Proactive customer notifications for paperwork needs
Order reminders and service calls to help ensure customers never run out of supplies
Nationwide shipping with most deliveries within 1-2 business days
24/7 order management and reordering for most products with HCD Online and Text-To-Reorder
Choose HCD To Get the Customer Experience You Deserve
The customer reviews speak for themselves. HCD customers are more satisfied and less frustrated than Medline customers. We work hard to make sure our customers don't have to worry about getting the supplies they need. Our convenient reordering options fit any schedule and our caring team of experts are available to provide exceptional customer support. That's why we've earned the highest customer satisfaction among medical suppliers. Sign up today to experience this customer satisfaction for yourself.
Start Your Medical Supply Deliveries
Study Methodology
The data used in this study is based on all publicly-available reviews from the companies mentioned in this article, as of February 20, 2019. These reviews came from sites such as BBB, Yelp, Google and TrustPilot.
Once each company's reviews were collected, they were run through the MonkeyLearn sentiment analysis module to determine positive and negative sentiment through their standardized artificial-intelligence based platform.