Home Care Delivered Named 2022 Top Workplace by Richmond Times-Dispatch and Earns 11 National Culture Awards
Richmond, VA (April 2022) Home Care Delivered, Inc. (HCD), a leading provider of insurance-covered medical supplies for people with chronic health conditions, is pleased to announce it has earned a 2022 Top Workplaces Award from the Richmond Times-Dispatch as well as 11 additional culture awards, indicating that HCD scored in the top 25% of all companies nationwide for: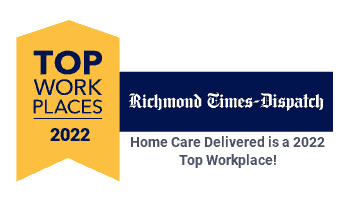 Innovation:

Employees believe new ideas are encouraged

 

Clued-In Employees:

Employees feel well-informed about important decisions

 

Trusted Leader:

Employees have confidence in the leader of HCD

 

Supportive Managers:

Employees feel the managers at Home Care Delivered care about their concerns and help them learn, grow, and succeed.

 

Strong Values:

Employees believe HCD operates by strong values.

 

Open Minded:

Employees believe HCD encourages different points of view.

 

Meaningful Work:

Employees jobs make them feel like they are part of something meaningful.

 

Leaders In-The-Know:

Employees believe senior managers know what is really happening at Home Care Delivered.

 

Employee Appreciation:

Employees feel genuinely appreciated at HCD

Company Direction:

Employees believe HCD is going in the right direction.

 

Work Life Balance:

Employees have the flexibility they need to balance their work and personal life.

 
The Top Workplaces program has a 15-year history of surveying employees and recognizing the top organizations across 60 markets for regional Top Workplaces awards. The awards are based solely on feedback from employees who were surveyed during a 2-week period in February 2022. Nearly 90% of HCD's 340 employees responded to the survey.  
"We are incredibly proud to be recognized as a Top Workplaces award winner," said Dan Monahan, President of HCD. "The HCD team is the best in the industry, and we are committed to providing them with all the tools they need to take care of each other so that they can take care of our customers."
Elizabeth Veliz, Senior Vice President of Human Resources, adds, "We're doubly proud that HCD scored in the top 5% for all companies in the Trusted Leader category. I think it speaks to the collaboration that occurs every day between employees and HCD's Coaches, Managers, and Senior Leadership team." She adds, "When the top three words that come up when you ask employees to describe Home Care Delivered are compassionate, caring, and innovative, you know we have a team that is living by our values, and we couldn't be more appreciative of this highly skilled, purpose-driven team. "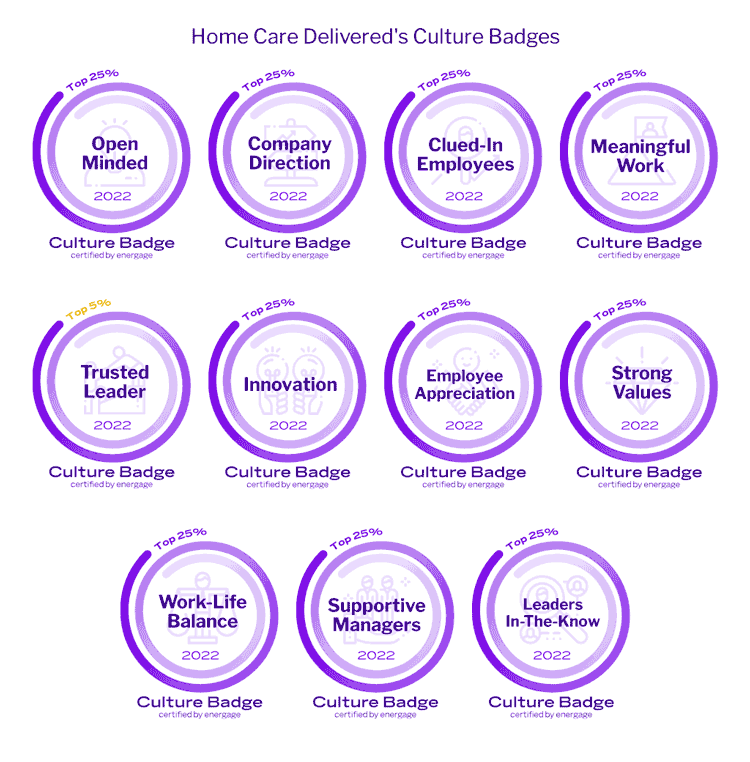 About Home Care Delivered, Inc.:
HCD is a leading direct-to-patient provider of insurance covered medical supplies such as diabetes, incontinence, urology, ostomy and wound care supplies, delivered directly to the patient's home. Founded in 1996 and becoming a portfolio company of BPOC in April 2021, HCD's vision is "to be the preferred partner to health plans and their members, by providing an exceptional experience that elevates the industry standard." With a world-class Net Promoter Score of 85, HCD is dedicated to providing best-in-class customer support and quality supplies for patients and caregivers nationwide. HCD was named a Top Workplace 2022 by the Richmond Times-Dispatch. For more information, visit www.hcd.com.
Contact:
Stephanie Smith
Home Care Delivered, Inc.
Vice President, Marketing
M: (717) 451-5498
ssmith@hcd.com