Home Care Delivered: How Our Brand Came to Be the Best in the Business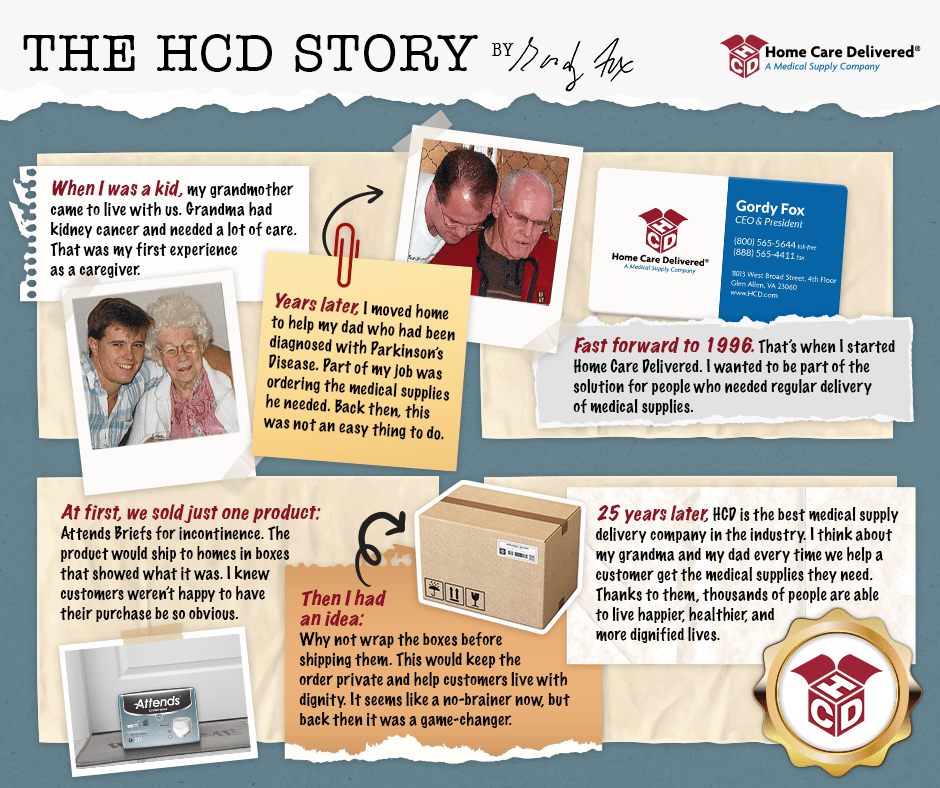 HCD was founded in 1996, but HCD's story actually begins back when our founder, Gordy Fox, was just a kid. Gordy's grandmother came to live with his family and Gordy got his first taste of the triumphs and trials of being a family caregiver.
Years later, Gordy became the caregiver to his ailing father and discovered that ordering medical supplies wasn't easy. In fact, it was one of the most difficult parts of coordinating care for his dad. HCD was born from Gordy's commitment to helping other people get the information and supplies they need to live with comfort and dignity.
Read more about HCD's founding in our blog, The Story of a Lifetime.
We Take Care of Everything
One of the things Gordy discovered as a caregiver was that completing the detailed and complex paperwork can be a hassle. That's why HCD has experts who will do it for you!
We accept Assignment of Benefits (that's a fancy way of saying that we can operate on behalf of customers if they want us to see if they qualify for benefits and want us to work directly with their insurance company and doctor's offices) and we can file Medicare, Medicare Advantage, Medicaid, Managed Medicaid, and Commercial insurance claims on the customer's behalf with insurance providers we are partners with.
We work with most of the top insurance carriers in the country to get claims processed, handle billing, submit paperwork, and ensure that compliance rules are being met. Our claims processing system removes the complexity from the process and saves you time and energy. We will even call your doctor's office to track down medical supply orders or other required forms.
We'll Take Care of You
At HCD, we do more than just deliver high quality products when you need them. We offer educational resources on how to use our products, and we can provide you with additional information about conditions from our highly trained staff and experienced team of nurses.
Our caring customer service representatives will call you to make sure you received your order, that it's correct, and that you are satisfied. We will check that you understand how to properly use your products and support you in complying with your plan of care as directed by your healthcare provider.
We also respect the way you'd like us to communicate with you. Whether by phone or email, or completely online, you'll always have a way to connect with us that works for you.