HCD: The Story of a Lifetime
By Gordy Fox, Founder and CEO of Home Care Delivered
It has been 25 years since I started Home Care Delivered. It's been an amazing experience building a company that has helped so many people get the insurance-covered medical supplies they need delivered directly to their door. Back in 1996, when I made my first delivery (from the trunk of my very own car!) I had no idea how far we would come, growing from one employee (me!) into a leader in the medical supply industry with more than 200 dedicated employees serving more than 40,000 customers.
HCD's silver anniversary seems like the perfect time to reflect on how HCD came to be the company it is today and to retell the story of how and why I founded Home Care Delivered all those years ago. It's a personal story, a family story, and one that I hope will help you understand the "why" behind what we do here at HCD. As you'll see, it's all about helping people live more comfortable and dignified lives.
The Seeds of an Idea
The story begins back when I was a boy. After the death of my grandfather, my grandmother came to live with us. In my eyes, Grandma was the epitome of what a grandmother should be and I loved having her come stay with us so much that I volunteered to share my bedroom with her for a few months until my oldest sister left for college.
Many years later, Grandma needed 24-hour care and moved to a nursing home. Even after she moved, I saw her as often as possible. My mom served as her advocate and ensured she got the care she needed. It was difficult but uplifting work. It taught me the value of taking care of people, of making them comfortable, and about the importance of helping people live their best lives with honor and dignity.
Taking Care of Dad
In 1983, my dad was diagnosed with Parkinson's Disease. Parkinson's is a brain disorder that leads to shaking, stiffness, and difficulty with walking, balance, and coordination. It progresses slowly, but by 1994, when I came home to attend my 10-year high school reunion, I could see that my mom needed help. I decided to quit my job and come home to support mom and dad when they needed me most. It was a decision that led directly to where I am today.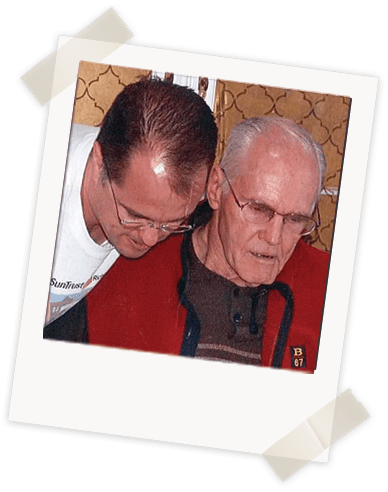 As part of caring for my dad, I attended doctor's appointments, served as an advocate for my dad in healthcare settings, and ordered the medical supplies he needed.
It didn't take long for me to figure out that ordering medical supplies wasn't easy. In fact, it was one of the most difficult parts of coordinating care for my dad. This was right around 1996. The idea of ordering products online and having them delivered was in its infancy, which meant many phone calls, lots of trips to medical supply stores, and plenty of frustration that it was not easier to get the supplies my dad needed.
The Birth of a Company
That's when I got the idea to start Home Care Delivered. I saw a need for easy access to medical products for people taking care of loved ones in their home. I knew from experience how difficult it was to be a caregiver to an adult facing incontinence. In fact, I learned that incontinence was one of the top two reasons people entered a nursing home.
Right from the beginning, my goal was to take as much of the burden as possible off of the caregiver, making it easier for them to get the necessary medical supplies for their loved one. I saw that I could also help by filling out paperwork and coordinating with insurance companies and doctors' offices. I wanted to help people get what they need, when they needed it, without a lot of stress, or even having to leave home. I envisioned a company united in pursuit of one goal: helping people with medical challenges live dignified lives.
The Growth of HCD
Looking back on those early years makes me smile. At first, we sold just one product: briefs used by people with incontinence. We shipped this product directly to our customers. That way they didn't have to go to the store and have the potential embarrassment of looking for and buying the product in a public place.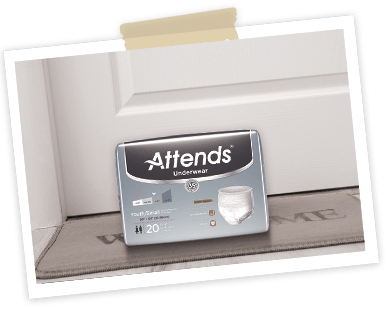 Then I realized something important: the packages we were sending through the mail had the product name right on them. Not very private at all. That's when I thought: What if we wrapped the packages in brown paper to keep their contents hidden and private? It was a small change but a significant one. Today, this idea may seem like a no-brainer, but back then, it was a game-changer. This small act helped put HCD on the map and established us as a company that puts people first.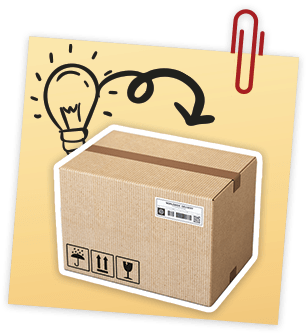 HCD Today
Over the years, HCD has grown into a mission-based, purpose-driven company, exactly as I imagined it would be. Our product catalogue has expanded to include products that help people living with diabetes, such as CGM (Continuous Glucose Monitoring) devices, and bowel and bladder conditions, such as catheters. We also serve people needing wound care supplies, including dressings, foams, gauze, and tape. More recently, we've added breast pumps, nutritional supplements, and patient care products such as gloves to our product line. And of course, we continue to sell incontinence supplies such as bladder control pads, briefs, and protective underwear.
At the same time, the HCD team has expended to include specialists whose job is to make sure customers feel taken care of, the same way I took care of my dad. We have enrollment specialists who reach out to each customer's doctors and insurance providers. There are clinical specialists, including Registered Nurses, who make sure each order we ship has the right medical supplies in the right numbers for the patients' needs. And we have a customer care team that follows up to ensure customers who need supplies every month get them on time, every time. Thanks to the work of all these people and more, HCD has earned a 98.6% approval rating from our customers.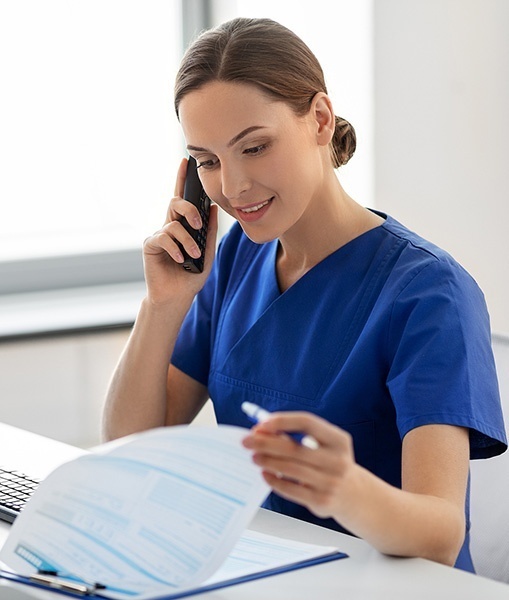 And, you know what? We're not done yet. Every member of the team at HCD is working hard to deliver 5-star service to even more customers, so that every one of our customers feels like they have a family member looking out for them and making sure they have what they need.
HCD's mantra has always been:
"What would you do if the customer was your grandmother?"
It's the best way to ensure we give every customer the care they deserve.
Celebrating our 25th Anniversary Thanks for listening to the story of how Home Care Delivered began. Each Monday morning, it's my tradition to send an inspirational message to my HCD family. The goal is to show my gratitude for the hard work they do every day and to wish them a great week. One of my recent messages said: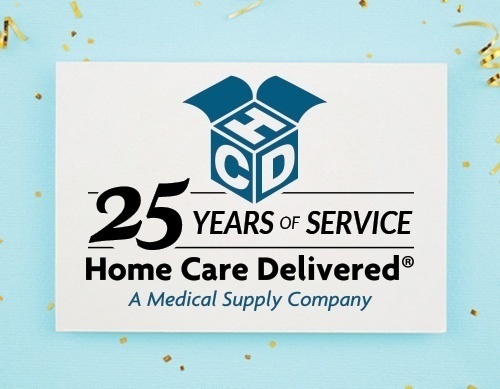 "I believe that the chemistry, commitment, compassion and courage that creates an inspired team must be on the list of the most beautiful things in the world!"
It is our honor to be the inspired team that serves you and your family and works to make the world a more beautiful place. We remain committed to being your choice for medical supplies and to taking care of you and your loved ones like you are part of our family.
Medical Supplies Delivered to Your Door
Accurate Orders |  Fast Delivery | Product Expertise