Who Is The Best Medical Supplier? – HCD Customer Review Comparison
So, your medical supplier claims to have great customer service. How can you know if that's true? Read their customer reviews.
You always read Amazon reviews before buying a product. Why not read reviews of a medical supplier before signing up for their services?
Well, you're in luck, because we did the analysis for you, by collecting every single publicly available review on the internet and analyzing them for sentiment. Our full methodology is below.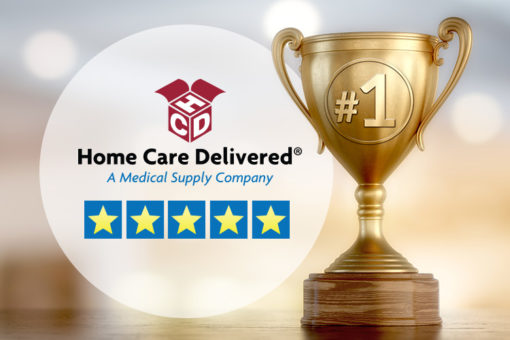 The Results
After analyzing the information, the results show that HCD customers are more likely to be satisfied than customers who use other suppliers.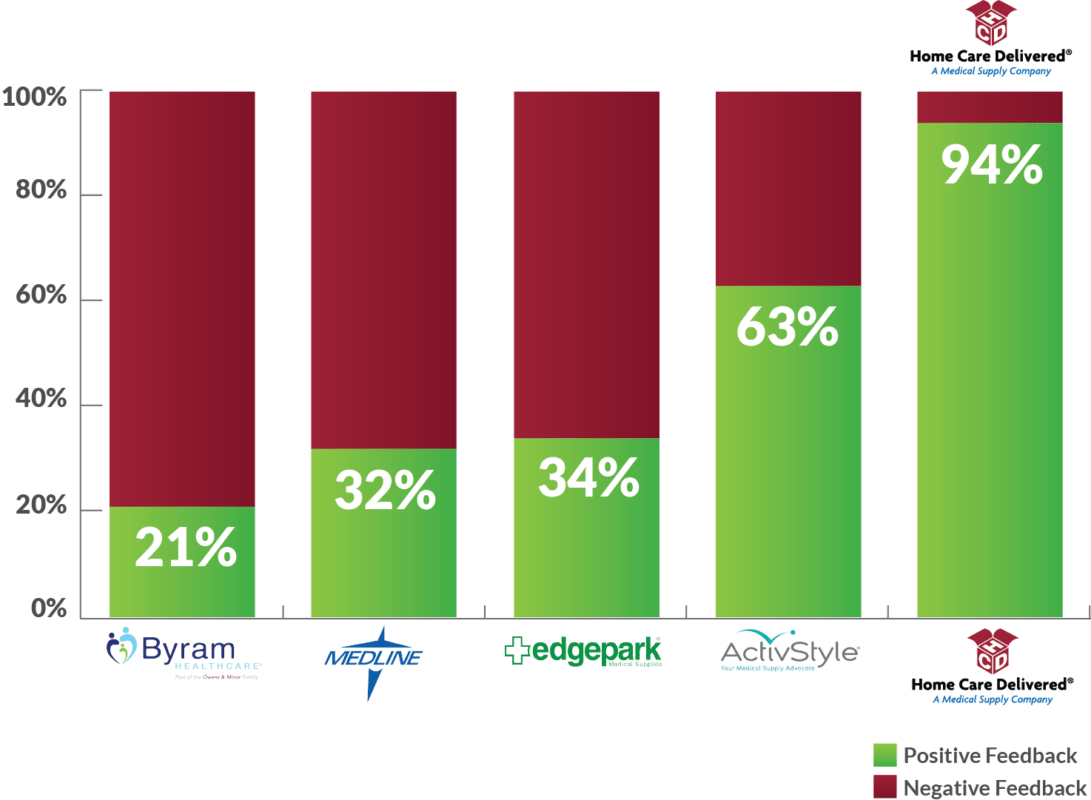 Why HCD Leads In Customer Satisfaction:
HCD leads in customer service for one simple reason: We've focused on the customer service problems that other suppliers still struggle with today. According to customer feedback, here are the biggest problems:
Common Problems With Other Suppliers
Late Deliveries
The top complaint customers have about other medical suppliers is late deliveries. Medical suppliers simply aren't delivering products on time, leaving customers without the supplies they need.
Suppliers Deliver Late Because:
They don't process paperwork on time
They don't notify customers when paperwork is needed
They don't remind customers to reorder supplies

"Worst company, save the aggravation. My mother receives "monthly" pullups and wipes. However, they never ship, and I have to call every month. Since it's delayed, her order keeps arriving later and later in the month. Don't use this company unless you have plenty of time and like to talk with rude reps."
HCD takes great measures to ensure that supplies arrive on time each month.
How HCD Ensures Timely Delivery:
We process paperwork efficiently
We notify customers early about paperwork needs
We send order reminders to customers to help ensure they never run out of supplies

"HCD always calls me when it's time to receive my supplies. I am pleased with how fast they get them to me, and the products are always what I ordered. I am very pleased with the service."
Long Hold Times
Another major complaint is long hold times. Based on their reviews, customers from other suppliers spend a lot of time waiting for a representative to help them. Here's what the feedback shows:
Customers Using Other Suppliers:
Are regularly put on hold
Spend 20-60 minutes on hold per call
Are frequently transferred and disconnected

"I have been calling frequently and repeatedly, I have been kept on hold for 30 minutes before speaking with a representative. My longest call was 67 minutes and I obtained almost no valuable information. Each representative gives me a different story, timeline, and set of expectations."
HCD customer reviews don't mention hold times as a problem. Customers don't have to wait long to order supplies, ask a question, or get updates about their deliveries.
Customers at HCD:
Don't experience long hold times
Are on hold for an average of 30 seconds when signing up, and 4 minutes for current customers
Can request a call back in less than 60 seconds

"I know when I call HCD, I'm going to speak to a respectful representative, and my concerns will be satisfied on the first call. The customer service representatives are so friendly and respectful. Thank you for ALWAYS making sure I have my supplies."
Ordering Supplies
Another big frustration for customers using other companies is the limited options for placing orders. Here's what the feedback reveals:
Ordering Options Provided By Other Suppliers:
About half of the reviews mention that they can order only by phone
Only half of competitors offer some form of online ordering
Nearly all suppliers who offer online ordering require a credit card

"I ordered diabetic pumps supplies. The wrong sensor was sent. Still waiting for the correct one to be sent. In the meantime blood sugar is all over the place. I requested to be contacted if there was a problem and have heard nothing. Terrible terrible customer service."
The lack of ordering options forces customers to make an unfair choice: Either wait on hold to place orders covered by their insurance, or place orders online and risk a charge to their credit card.
HCD customers don't have to make that choice; In fact, we don't require a credit card to place any orders, no matter how they are placed.
Ordering Options at HCD:
Most customers can order online, by phone, or by text message
No credit card is required
Ordering takes less than 5 minutes in most cases.

"They make ordering supplies for my daughter so easy. I can order monthly online, or over the phone. I can always depend on her supplies coming soon after the order is placed. Their customer service is always polite and helpful."

Surprise Bills
The reviews also showed that many customers may receive expensive bills for supplies they were told would be covered by insurance. There are three reasons this could be happening:
Causes of Expensive, Unexpected Bills
Suppliers incorrectly charging both the customer and their insurance for the same order
Suppliers incorrectly verifying or billing the customers' insurances, resulting in denied claims

"Absolutely the rudest people in "customer service" and they refuse to help in anyway when THEY billed wrong. I have spent 4 days and over 8 hours on the phone between them and my insurance company. Not one bit of help. was told it was my problem….I was forced to use them due to my insurance…awesome"
HCD explains upfront the correct insurance coverage and costs. There's no credit card required to place orders, and we do our best to keep customers informed throughout the ordering process.
How We Prevent Surprise Costs:
We have insurance experts who explain product coverage
We don't require credit cards to place orders, meaning we can't charge you without your permission
If there is ever an out-of-pocket cost, we do our best to tell you before your order is complete.

"They take a load off my plate by keeping up with the details and shipment dates, and making calls when items are due. They also do ALL the billing for us. HCD has been the biggest blessing in caring for my Mother's needs! You do excellent work and I am so pleased I found you and chose you!"
Poor Customer Service
The reviews also reveal a big problem with customer service. Other medical suppliers simply aren't providing the care and expertise that customers expect. Here's why:
Problems Mentioned by Other Suppliers' Customers:
The service representatives are rude and unprofessional
Customers receive incorrect or conflicting information about orders
The service representatives can't resolve problems or answer customer questions

"Their customer service reps are rude and unconcerned about your issue. I've had to deal with issues on almost every order. No one truly cares about your order not being shipped out on time. They always push the blame to the doctor or insurance companies. I am so done with this company."
HCD customers experience fantastic customer service. There's a reason that 98% of our customers recommend us to others: we take care of people the right way.
Customer Service at HCD:
We treat every customer with respect, dignity, and compassion
We offer support from Registered Nurses and trained product experts
We have insurance experts who can help you use your qualifying benefits

"The staff are very respectful, friendly and helpful. They make sure you understand their services, products, and that you get what you need. They also bill your insurance along with calling your physician. They do all the work for you."
The Conclusion: HCD Leads Its Competitors in Customer Satisfaction
The customers have spoken and the feedback is clear: HCD delivers more satisfaction than other suppliers. In every category, we provide customers with more choices and fewer hassles.
HCD Customers:
Receive the correct delivery on time, every time
Spend far less time on hold than with other suppliers
Almost never express problems with surprise bills or unexpected charges
Feel cared for and listened to by our friendly customer service team.
Individual Comparisons:
Does your supplier let you down every month? Read the warning signs that you should switch medical suppliers.
Start Your Medical Supply Deliveries
If you're ready to get supplies from the best, contact us today. In just 10 minutes, we can set up your monthly product orders covered by your insurance plan.
Study Methodology
The data used in this study is based on all publicly-available reviews from the companies mentioned in this article, as of February 20, 2019. These reviews came from sites such as BBB, Yelp, Google and TrustPilot.
Once each company's reviews were collected, they were run through the MonkeyLearn sentiment analysis module to determine positive and negative sentiment through their standardized artificial-intelligence based platform.
Disclaimer:
Unless otherwise noted, the recommendations in this document were obtained from the sources indicated. Be advised that information contained herein is intended to serve as a useful reference for informational purposes only. HCD cannot be held responsible for the continued accuracy of or for any errors or omissions in the information. All trademarks and registered trademarks are the property of their respective owners.