Edgepark vs HCD- Who Is A Better Medical Supplier?
Who really provides a better medical supply experience – Home Care Delivered or Edgepark? The best way to find out is to listen to the customers.
So that's what we did. We collected, analyzed, and compared thousands of public Edgepark customer reviews. Here's what we learned: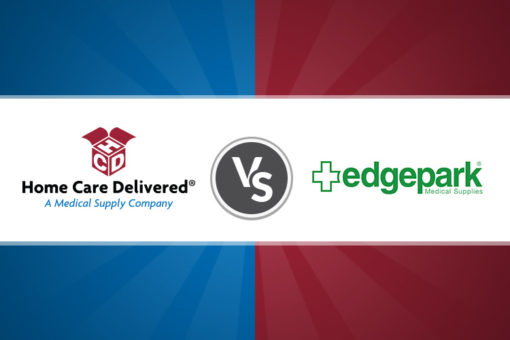 The Results: HCD's Customers Are Happier
The results are clear: the reviews show HCD customers are happier than Edgepark customers. Here's a look at the feedback (and here is our methodology):
Edgepark Review Highlights:
66% of Edgepark's customer reviews are negative.
On Yelp, 285 customers (out of 336) rated Edgepark at a 1 star.
On Google, about half of Edgepark's 2,580 reviews are just 1 star. Many even mention the desire to provide 0 stars.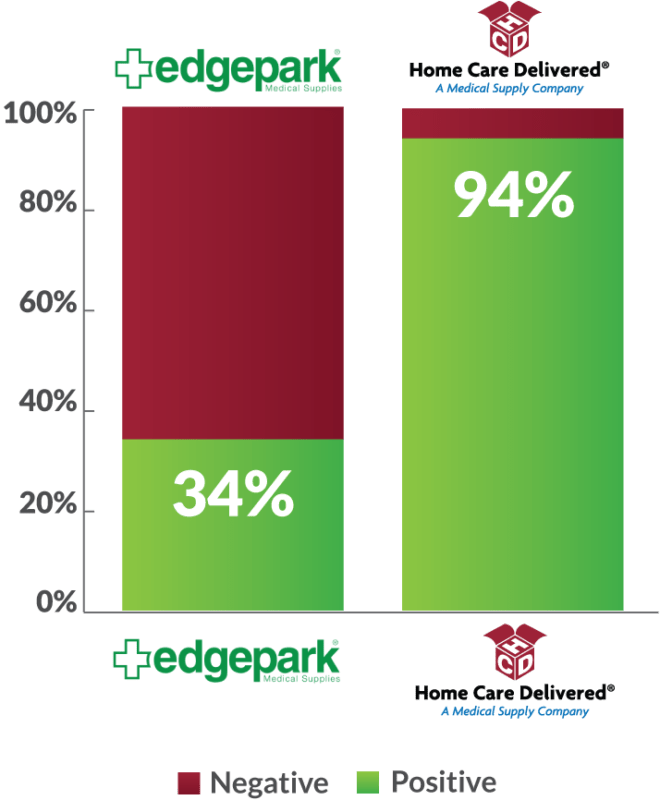 There's a reason why HCD customers are happier than those at Edgepark. We simply care more, and that means providing customers with a better overall experience. From placing orders to receiving product recommendations from our trained staff, HCD customers enjoy more options, better service, faster deliveries and fewer hassles. Wondering what it might be like to be an Edgepark customer? Keep reading.
It Takes Forever to Speak To Someone
Edgepark's customer frustrations start with the phone. According to their reviews, merely connecting with a representative can take an extremely long time.
Edgepark customers report consistently long hold times from 20 minutes to 1 hour or more. Over 135 customers on Yelp claim this is a regular problem. But don't take our word for it. Here is just a sample:

"Each call usually takes up an hour of my time, and I have to call multiple times to get anywhere, if at all.  Recently, my orders have been cancelled without warning or notification, paperwork issues are still not resolved days after my order was supposed to ship, leaving us without supplies.  I am looking forward to not ever having to use this company again!"

company that I have ever had the displeasure of doing business with. I spend 8 hours a month on the phone with customer service due to their inability to  bill Insurance correctly. Sometimes I will call and be on hold for 44 minutes and then they would just disconnect me."
At Home Care Delivered, customers have no trouble reaching our team. In fact, within our 930 reviews, not one customer mentions long hold times. That's because our experts are easy to contact, and we provide online options that let most customers take care of issues 24/7.
With Us:
24/7 reordering online or by text for incontinence supplies
Average hold time less than 30 seconds when signing up
Instant Callbacks in 60 seconds or less
Proactive, monthly reorder reminders

"HCD always calls me when it's time to receive my supplies. I am pleased with how fast they get them to me, and the products are always what I ordered. I am very pleased with the service."
Edgepark Customer Service Rarely Knows What's Going On
If customers make it past the long hold times Edgepark customers face, they are greeted with another frustration: service representatives who provide inconsistent or incorrect information about their orders.
Dozens of Edgepark reviews reveal situations where customers are given different explanations for the same problem, on the same day, and even on the same call. Some customers call and speak with 2 different people, and get 2 different sets of information.

I have ever dealt with. Each person you speak with at this company has a different story. It took three months for them to send my son's medical supplies and they only sent one months worth. I'm now starting at ground zero to try to get more supplies. They are waiting for doctors notes, once again. Do not use this company!"

"Avoid this company at all costs. You will be kept on hold forever, the customer service reps are rude and do nothing, the supervisors do nothing. If there is an issue with insurance, they do not notify you. If they are back ordered, they do not notify you or check other warehouses for supplies. Please please please avoid because if you're needing their services you clearly already have life challenges and this will just add to them."
In our reviews, customers express gratitude for our consistent and reliable service. They report that deliveries arrive when we say they will, and that our reps are honest, knowledgeable, and capable of resolving issues quickly.
Customer Service at HCD:
Consistent, accurate order updates
Helpful support from Registered Nurses and trained product experts
Insurance specialists that provide the correct coverage information

"Trustworthy, great attention to detail, professional, promptness, kindness and understanding when dealing with customers are only a few great details about Home Care Delivered. Thank you for all the years caring for my mother. I would recommend Home Care Delivered to anyone who would need their services. You are the best!"
Edgepark Deliveries Are Often Late
Edgepark customers who place an order often encounter another problem: waiting a long time for products to arrive.
Late deliveries is one of the most common complaints found within Edgepark reviews. Many customers report waiting weeks or even months for their supplies to arrive. Late orders can have negative consequences on the customers who need their products to remain happy and healthy.

"Absolutely the worst company on the face of the earth. They miss every recurring order and put you at risk of not having supplies to be able to take your insulin. They don't even provide you with the courtesy of letting you know that you are not going to receive your life-sustaining supplies, or that they aren't even timely processing them."

"Dozens of phone calls over a month have still not gotten me my critical medical supplies. They are literally harming my health. I have spent hours on hold sent tons of information and still nothing. It is 1984 meets medical supply ordering. Avoid at all cost."
At HCD, some of our most common praise is about how reliable our deliveries are. A commonly repeated phrase in our reviews is "deliveries always arrive on time."
How HCD Delivers On Time:
We process paperwork efficiently
We notify customers early about paperwork needs
We send order reminders to customers to help ensure they don't run out of supplies

"My orders are always on time so I never run out. I even get follow up calls to make sure I'm happy. They make sure that my supplies are one less thing for me to worry about."
Edgepark Customers Report Getting Surprise Bills
Many Edgepark reviews also mention a big problem: people are sent surprise bills.
Numerous Edgepark customers mention they've received unexpected bills or surprise charges to their credit cards. These charges often come with no explanation, and in cases where the charge is incorrect, it often takes forever to resolve. Some customers report they were assured by a representative that the items would be covered by their insurance plan, only later to receive a bill for them.

"Never ever use this company. Won't even give them a star. Ended up in the ER because of them. Still haven't billed insurance company since January. Wanted credit card to bill me [the] full amount because they are incapable of handling anything. Also wouldn't let me post unless I gave a star which they are not worthy of."

"They have neglected to refund me money they charged to receive my life-saving diabetic supplies for months after insurance has also paid them. They've even charged my credit card after my deductible has been met, and they had previously acknowledged that it was met and supposedly had marked it in my account to avoid having to call for refunds. I've spoken to several managers/supervisors in the past about this but it has still been an issue."
For some customers, the only way to address billing issues is to call the company and wait on hold. Again, the lack of options forces customers to make a difficult choice: Either wait on hold to order supplies covered by their insurance, or place orders online and risk a charge to their credit card. Our customers don't have to make this choice. In fact, we don't require a credit card to order supplies, no matter how they are placed.
How HCD Prevents Surprise Charges
We have insurance experts who explain product coverage
We don't require a credit card prior to placing an order.
If there are ever out-of-pocket costs, we do our best to keep you informed on possible expenses

"They make ordering supplies for my daughter so easy. I can order monthly online, or over the phone. I can always depend on her supplies coming soon after the order is placed. Their customer service is always polite and helpful."
Our Customers Are Simply Happier Than Edgepark's The customers have spoken, and the verdict is clear – HCD provides a better customer experience, which leads to more customer satisfaction. HCD customers report better service, more reliable delivery, and fewer hassles. That's why over 98% of customers recommend us to others. Want to see how we stack up against other suppliers? Learn why we're the best medical supplier.
Start Your Medical Supply Deliveries
If you're ready for a truly exceptional medical supply experience, contact us today. In just 10 minutes, we can set up monthly product deliveries covered by your insurance plan.
Study Methodology
The data used in this study is based on all publicly-available reviews from the companies mentioned in this article, as of February 20, 2019. These reviews came from sites such as BBB, Yelp, Google and TrustPilot.
Once each company's reviews were collected, they were run through the MonkeyLearn sentiment analysis module to determine positive and negative sentiment through their standardized artificial-intelligence based platform.
Disclaimer:
Unless otherwise noted, the recommendations in this document were obtained from the sources indicated. Be advised that information contained herein is intended to serve as a useful reference for informational purposes only. HCD cannot be held responsible for the continued accuracy of or for any errors or omissions in the information. All trademarks and registered trademarks are the property of their respective owners.