Oh, the Places You'll Go! Traveling with an Ostomy
You've finally got a trip on the calendar and it feels good to know you'll soon be heading out of town. Whether you're traveling to see family, attend a conference, or chill on the beach, one thing is for sure—nothing's going to stop you, including your ostomy.
With planning, patience, and the right products, you can travel with an ostomy with confidence and peace of mind. Will it require more than tossing your clothes into a suitcase at the last moment? Yes. But as an ostomate, you know that some activities that were once simple are a bit more complicated these days. That's certainly not going to get in the way of a great trip!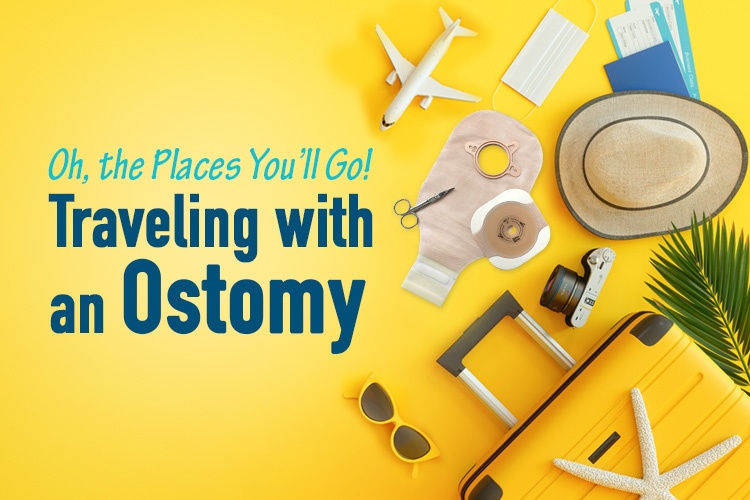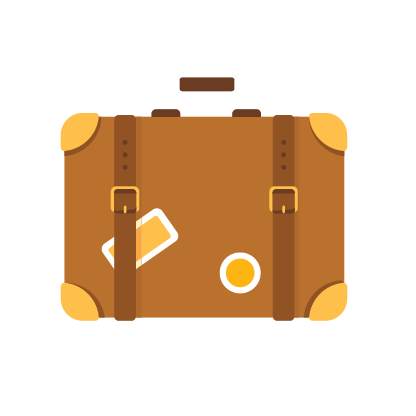 Experienced travelers estimate the number of pouch changes they would normally need and bring twice that amount with them.
Pack with Purpose
Regardless of your mode of travel and destination, you'll need to pack with care. There's nothing more stressful than running out of pouches, skin barriers, or other essential products when you're far from home! To avoid the panic, check your supply closet a few weeks before you leave, and if necessary, re-order your supplies to arrive in time for your trip.
The next step is to create a packing checklist. Start with pouches. Experienced travelers estimate the number of changes they would normally need and bring twice that amount with them. That way they're ready for unexpected delays, lost supplies, or frequent changes. Some people find it's easiest to travel with pre-cut pouches, especially since you can't bring scissors in your carry-on.
Other items for the checklist include:
Skin barriers
Disposal bags
Accessories, including barrier rings
Odor eliminators and air freshener
Toilet paper
Cleansing wipes
Medications as needed
If you're flying, you'll want to divide and conquer—pack half your supplies in your carry-on bag, and the other half in your checked luggage. Again, it's all about having a plan B to ensure you never run out.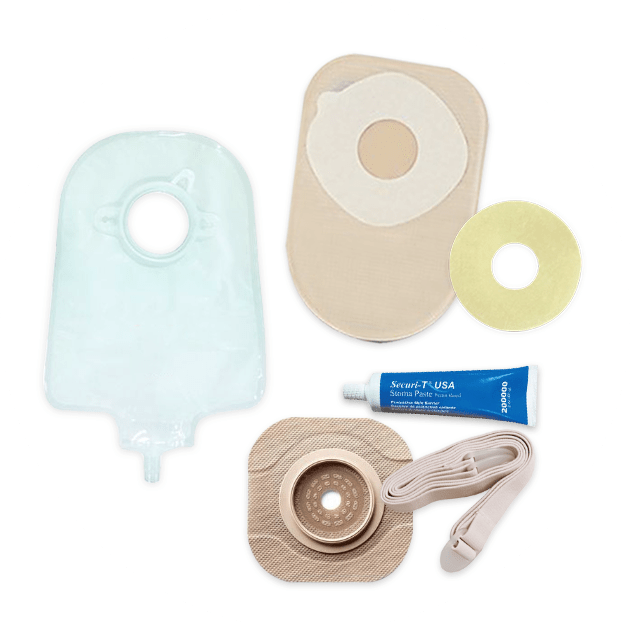 Prepare for Pat-Downs
If you are flying, knowing what to expect will help you make it through security with your dignity intact and your blood pressure under control! Here's what the Transportation Security Administration (TSA) says about screening with an ostomy pouch:
"You can be screened without having to empty or expose the ostomy pouch during advanced imaging technology, metal detector, or pat-down screening. Please inform a TSA officer that you have an ostomy pouch before you enter the screening area. The ostomy pouch is subject to additional screening and may require you to conduct a self-pat-down of the pouch outside of your clothing, followed by a test of your hands for any trace of explosives. You may also undergo a standard pat-down of areas that will not include the ostomy pouch."
Communication is key. As you begin the screening process, let the TSA agent know that you have an ostomy pouch and where on your body it is located. The United Ostomy Association of America, Inc. (UOAA) offers a downloadable travel communication card. It's a good way to discreetly inform TSA agents that you have an ostomy. You might also want to bring a note from your healthcare provider that details your medical condition.
Another helpful resource is TSA Cares, a passenger support service you can reach by calling (855) 787-2227. TSA agents will provide you with information about what to expect during screening. Need help at the airport? TSA Cares can provide a passenger support specialist or customer service manager, depending on the airport. Consider signing up for TSA Pre-Check, which can mean shorter lines and wait times. You'll still get screened, but you won't have to remove your shoes, belt, or light jacket. At any point in the process, it's your right to ask a TSA supervisor to provide a private screening area, and to allow your traveling companion to accompany you.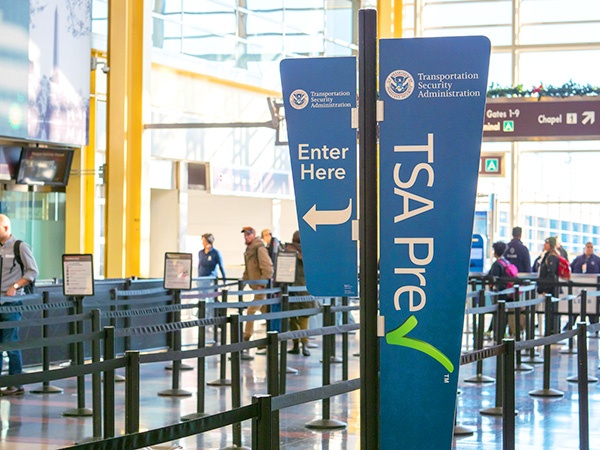 As you plan, remember that some common items that could be considered dangerous are not allowed on flights. Examples are flammable aerosol adhesives, ether, and scissors. If you pack medications in your carry-on bag (always a good idea) you may need to show the TSA agent that doctor's note if there are any questions. Check with your airline and the TSA about weight limits; some airlines may offer exceptions for medical supplies.
Also consider selecting a seat that's close to the airplane bathroom. Change your pouch and skin barrier before you leave home for additional peace of mind!
As you begin the screening process, let the TSA agent know that you have an ostomy pouch and where on your body it is located.
A Few Final Travel Tips
Planning to travel by car? Enjoy the ride, but make sure your seatbelt is attached across your hip bone and pelvis, not across your abdomen and stoma. You may want to purchase an accessory that makes the seat belt or shoulder belt more comfortable. Also take steps to keep your ostomy products cool during the trip. If you drive in hot, humid areas, avoid keeping your supplies in a hot trunk or glove box. A cooler is best.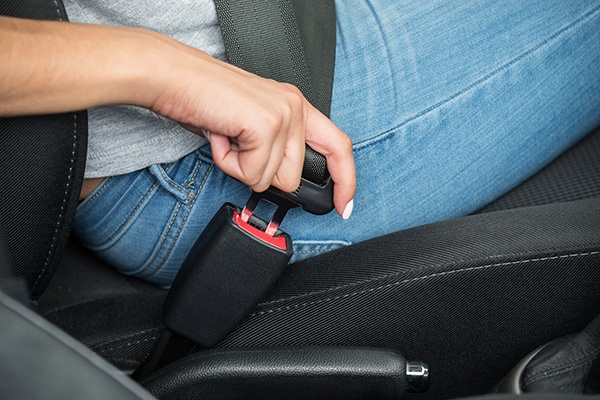 Once you reach your destination, it's time to settle in and enjoy yourself! Often, a new place means new, good things to eat. If you're trying something outside your normal diet, remember to chew, chew, chew. A blockage is not something you ever want, especially when you're out of town. Be careful with alcohol, which can be dehydrating. Make sure to drink plenty of water or an electrolyte beverage if you're going to enjoy a cocktail.
Consider packing scented diaper disposal bags or freezer bags to make disposal of used pouches easy and discreet. One more thing—depending on the type of trip and location, review your health and travel insurance policies. Some include limits for pre-existing conditions. If you have to use the insurance, you certainly don't want any surprises about coverage.
Find other important tips for taking care of your ostomy in our blog, Taking Charge of Your Health When You Have an Ostomy: A Practical Guide
Bon Voyage!
Travel can be complicated for anyone. For those living with an ostomy, there are even more moving parts to manage. So, stay calm, be prepared, and focus on the goal—hugging those much-missed family members, or hugging a tree in a beautiful National Park!
Whether you have a temporary or permanent stoma, Home Care Delivered has the experience, the supplies, and the knowledgeable team members to support you at home and on the road. We've been delivering quality supplies in discreet packages for more than 25 years, and we've earned the highest customer satisfaction scores in the medical supply delivery business.
To get started, give us a call at 866-938-3906 or enter your phone number below and we'll take it from there.
Enjoy your return to travel. Stay safe and let us know how we can help!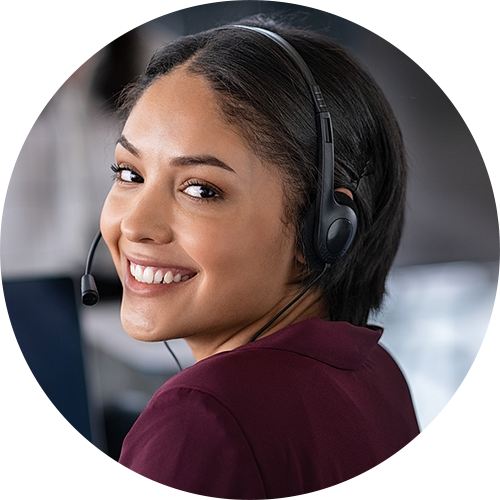 Disclaimer:
Unless otherwise noted, the recommendations in this document were obtained from the sources indicated. Be advised that information contained herein is intended to serve as a useful reference for informational purposes only. HCD cannot be held responsible for the continued accuracy of or for any errors or omissions in the information. All trademarks and registered trademarks are the property of their respective owners.