What Is a Straight Catheter?
The straight catheter, also called an intermittent catheter, is a soft, thin tube used to pass urine from the body. Straight catheters are usually made of plastic (PVC) and are only used one time and then thrown away.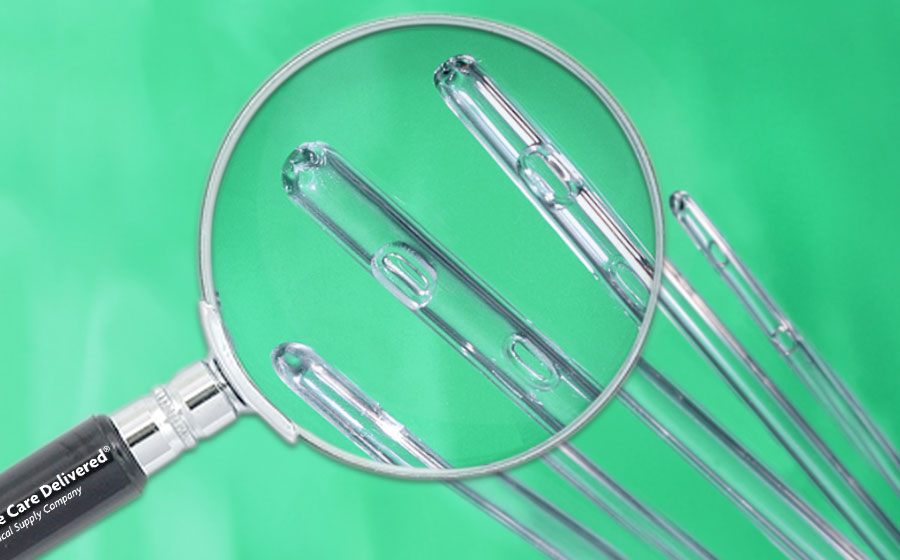 How a Straight Catheter Works
Straight catheters are inserted through the urethra and into the bladder. Urine flows through little openings called eyelets and exits through the catheter funnel. Once the bladder is empty, the catheter is carefully removed and thrown away.
Unlike Foley catheters, straight catheters do not attach to collection bags, which means that they need to be used in a bathroom or other place where urine may be properly disposed.
Because a new straight catheter is used each time, there is less risk of getting an infection, such as a Urinary Tract Infection (UTI)
Parts of a Straight Catheter
There are two basic parts that make up most straight catheters: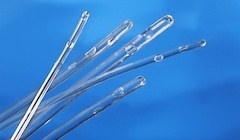 Soft, hollow tube made of a special plastic (PVC). The tubing allows urine to leave the bladder and exit the body.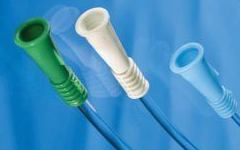 Plastic, grip-like cones attached to one end of the catheter. They help direct urine into waste receptacles. The color of the funnel indicates the French size of the catheter.
Styles of Straight Catheters
Straight catheters are available in many different styles and designs. Here are some of the most common ones you'll find: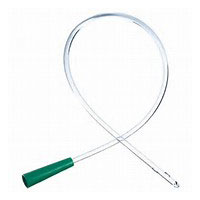 Standard PVC (Plastic) Urethral Catheter
These straight catheters are made of plastic and come with a color-coded funnel that indicates the French size. They tend to be slightly firmer than red rubber catheters.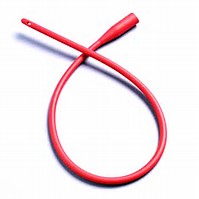 Red rubber catheters are made of thin red rubber. They are more flexible than plastic catheters, but do not usually come with a color-coded funnel.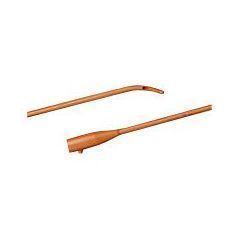 Coude catheters have a tip that is tapered or bent. This helps the catheter navigate through obstructions in the urethra. Coude tips are available on both plastic and red rubber straight catheters.
Who Uses a Straight Catheter?
Straight catheters are prescribed for men and women who can use catheters themselves, and who are less prone to infections. Some situations requiring a straight catheter could be Overflow Incontinence, paraplegia, or nerve issues that affects the function of the bladder.
Many straight catheters can be used by both men and women, but there are some catheters made exclusively for women.
Insurance Coverage of Straight Catheters
Most insurance plans provide some level of coverage for straight catheters. This includes Medicaid, Medicare, and private insurance.
The number of coude catheters you can get depends on medical necessity and your insurance plan.
How To Get Straight Catheters
Whether you're getting catheters for the first time, or you want to find a better supplier, our experts can help you get what you need. We make sure that getting catheter supplies is as fast, easy, and smooth as possible.
Our ordering process is simple: You provide us with some basic information, and our experts handle everything else. We'll take care of the paperwork and insurance billing for you. Don't worry about slow orders; in most cases, supplies will arrive at your door within 48 hours of being shipped.
Get Urology Supplies Delivered to Your Door
Accurate Orders |  Fast Delivery | Product Expertise

Disclaimer:
Unless otherwise noted, the recommendations in this document were obtained from the sources indicated. Be advised that information contained herein is intended to serve as a useful reference for informational purposes only. HCD cannot be held responsible for the continued accuracy of or for any errors or omissions in the information. All trademarks and registered trademarks are the property of their respective owners.