What Is a Red Rubber Catheter?
Red rubber catheters are a type of intermittent catheter used to manage urinary retention. They function just like a straight catheter, except that they are made of red rubber latex instead of plastic. This makes the red rubber catheter a bit more flexible, which some people prefer.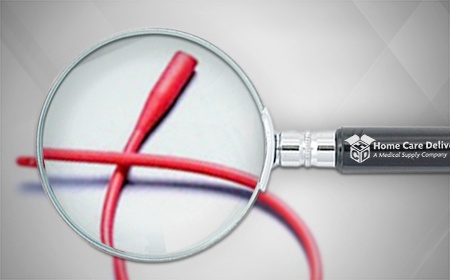 How a Red Rubber Catheter Works
Red rubber catheters are used like other straight catheters. The catheter is inserted through the urethra into the bladder. Small openings in the tip, called eyelets, allow urine to flow through the catheter and exit the body.
Red rubber catheters are designed to be used once and then thrown away. Using a new catheter each time reduces the risk of infections such as a Urinary Tract Infection (UTI).
Parts of a Red Rubber Catheter
There are two basic parts to a red rubber catheter: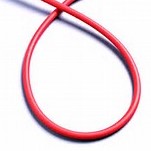 Thin, flexible tubing that allows urine to leave the body. The tip contains smooth openings that allow urine to pass through the tubing and empty into a receptacle or toilet.

Catheter funnels are widened openings at one end that make it easier to handle the catheter and direct urine into the toilet or waste receptacle.
Who Uses Red Rubber Catheters?
Red Rubber catheters are used by people with a prescription for intermittent catheters, but who prefer red rubber latex over soft plastic.
Since both red rubber and straight catheters function the same, it may be possible for a person to choose one material over the other. However, because red rubber catheters contain latex, they cannot be used by people with latex allergies. It is ultimately the doctor's decision as to which material is most appropriate for their patient. 
Insurance Coverage of Red Rubber Catheters
Red Rubber catheters are covered by most health insurance plans. That includes Medicaid, Medicare, and private plans.
A doctor's prescription is required for coverage, and the number of catheters you can receive depends on the details of your insurance benefits and the doctor's prescription.
How To Get Red Rubber Catheters
Whether you need red rubber catheters for the first time, or you're looking for a better supplier, we can help you get the supplies you need. We specialize in making the process of getting catheters as quick and easy as possible.
Getting red rubber catheters is easy. Just provide us with some basic information, and we'll handle the rest. You never have to worry about the paperwork: our experts work directly with your doctor and insurance company to complete it for you. Once it's complete, you'll be able to receive discreet orders of supplies delivered free, each month for as long as you need them
Get Urology Supplies Delivered to Your Door
Accurate Orders |  Fast Delivery | Product Expertise

Disclaimer:
Unless otherwise noted, the recommendations in this document were obtained from the sources indicated. Be advised that information contained herein is intended to serve as a useful reference for informational purposes only. HCD cannot be held responsible for the continued accuracy of or for any errors or omissions in the information. All trademarks and registered trademarks are the property of their respective owners.