Types of Incontinence Products – Everything You Need to Know
When it comes to incontinence, there's nothing more important than understanding the products. There are many different kinds, and one is designed to handle the specific needs of each individual. Knowing these differences will help you choose the right product for you.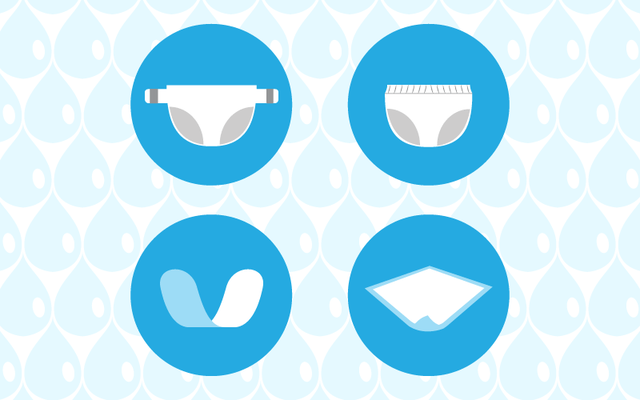 Types of Incontinence Products
There are many types of incontinence products, but they all fall into into these categories: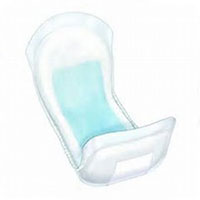 Bladder Control Pads are thin, absorbent pads designed to protect against lighter outputs of urine. They're made with a layer of special polymer that absorbs liquid and locks it away, keeping the skin clean and dry.
An advantage of Bladder Control Pads is that they are extremely discreet. They're among the smallest of products, making them ideal for active people. However, their small size limits the liquid they can absorb, which is why they are typically only used for light leakage.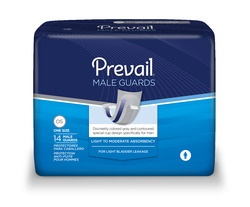 Male Guards are bladder control pads specifically designed for men. They function just like a regular pad, except that one end is tapered to better accommodate male needs.
Like other bladder control pads, male guards are small and discreet. The polymer layer can handle the same amount of leakage as a normal bladder control pad. Male Guards also work best for managing lighter types of incontinence.
NOTE: Male Guards may be covered by Medicaid.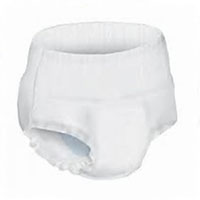 Protective Underwear, also known as "pull-ons," are slightly larger products that can replace underwear and fits underneath clothing. The polymer layer is bigger than in Bladder Control Pads, providing both more absorbency and a larger area of protection. When fitted properly, they help prevent leakage from traveling down the leg and dampening clothing.
Although Protective Underwear is bigger than a bladder control pad, they're still designed to be discreet and comfortable. They're a great choice for people who experience moderate leakage, or for people who need more absorption at night.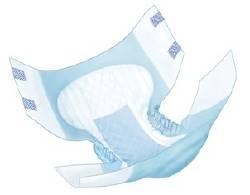 Like Protective Underwear, adult briefs are wearable protection made to fit underneath clothing. They have one of the largest polymer layers and provide more area coverage than other absorbent products. Unlike pads and pull-ons, Adult Briefs can handle both urinary and fecal incontinence.
Adult Briefs are great for managing heavier outputs of urine and any level of fecal incontinence. While they are larger than other products, the special design of their polymer layer allow them to be surprisingly thin. They can still be worn underneath clothing with relative ease and comfort.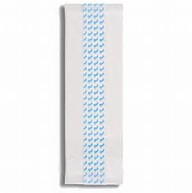 Booster Pads are a supplemental product designed to be used with another absorbent product. As the name suggests, they "boost" absorbency by providing an extra layer of protection. Booster Pads can only be used with another absorbent product, such as bladder control pads, adult briefs, or pull-ons. They do not have a waterproof side, which means they cannot be used by themselves.
NOTE: Booster Pads may be covered by Medicaid.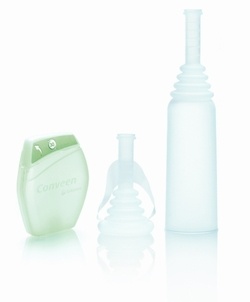 External Catheters, also known as condom catheters, are a unique incontinence product in that they don't work by absorbing liquid. Instead, they collect urine into a drainage or collection bag. There are three basic parts to an External Catheter system: The External Catheter, the collection tubing, and the collection bag. Urine travels through the catheter into the collection tubing, which carries it to the collection bag. Once the collection bag is full, it can either be thrown away or emptied, depending on the model.
NOTE: Condom Catheters may be covered by Medicaid.
Underpads are soft, thin sheets of absorbent materials attached to a waterproof barrier on one side. They are designed to protect surfaces from leakage during the changing of an incontinence product. There are two types of underpads: disposable and reusable. Disposable pads are thrown away after use, while reusable pads may be washed and reused. Most underpads do not contain a polymer layer, which means they will stay wet once they absorb liquid.
NOTE: Underpads may be covered by Medicaid.
Understanding the types of incontinence products is a crucial first step for successfully managing your condition. With this knowledge, you'll be better prepared to choose the right incontinence product.
Get Incontinence Supplies Online With Medicaid
No Credit Card | Fast Delivery  |  100% Discreet

Disclaimer:
Unless otherwise noted, the recommendations in this document were obtained from the sources indicated. Be advised that information contained herein is intended to serve as a useful reference for informational purposes only. HCD cannot be held responsible for the continued accuracy of or for any errors or omissions in the information. All trademarks and registered trademarks are the property of their respective owners.