How Often Do Incontinence Pads Need To Be Changed?
Even if you or a loved one has been using bladder control pads for years, questions may still pop up about how best to use them. The pads may say they're for maximum absorbency, but does that mean they don't need to be changed as often? Keep reading to learn more about how often to change incontinence pads.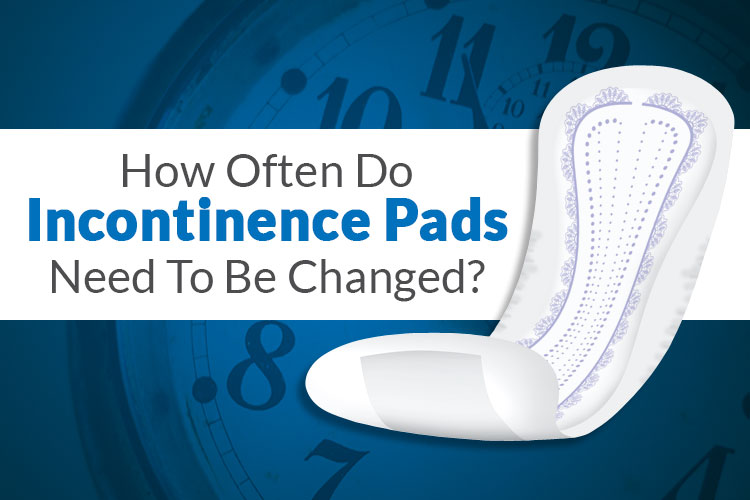 First Things First
Before we dive into how often pads should be changed, it is important to make sure that the right product is being used. Bladder control pads are made specifically for urine. Menstrual pads are not designed to absorb urine. Not all bladder control pads are the same; there are various sizes and absorbency levels.

Light: Max Absorbency
The lightest option only meant to absorb a few drops at a time

Moderate: Max Absorbency
This is the most common absorbency level. Moderate absorption pads are meant to absorb light dribbles. They can handle more than a few drops.
Heavy: Max Absorbency
Ultimate pads are meant for heavy leakage and overflow.
It is important to remember that pads are meant for light leakage, no matter how absorbent they are. If there are higher volumes of urine, a different product may be necessary. Learn more about the different types of incontinence pads by reading our
Incontinence Pads Comparison: Sizes, Styles, and Products
article.
How Long Should I Wear My Incontinence Pad?
Generally speaking bladder control pads should be changed when they are soiled. If worn at night, it is important to change the pad first thing in the morning. It's easy to get comfortable with using a pad and keep it on for longer, especially during busy days. But frequent changes can help avoid1:
Skin Breakdown
Rash
Redness
Chafing
Bacterial growth
Infection
Let HCD Help
We have a wide range of incontinence pads that can be shipped discreetly to your door. Once enrolled with us, you'll get monthly deliveries of supplies and ensure the right number of products are provided. Plus, if you have Medicaid, incontinence pads could be fully covered. We work with many other insurance plans as well, let us give you a call today by entering your phone number at the bottom left of this screen. Our customer care representatives will handle all the billing and paperwork. We can't wait to show why we have the best customer reviews in the industry.
Disclaimer:
Unless otherwise noted, the recommendations in this document were obtained from the sources indicated. Be advised that information contained herein is intended to serve as a useful reference for informational purposes only. HCD cannot be held responsible for the continued accuracy of or for any errors or omissions in the information. All trademarks and registered trademarks are the property of their respective owners.
Get Incontinence Supplies Online With Medicaid
No Credit Card | Fast Delivery | 100% Discreet