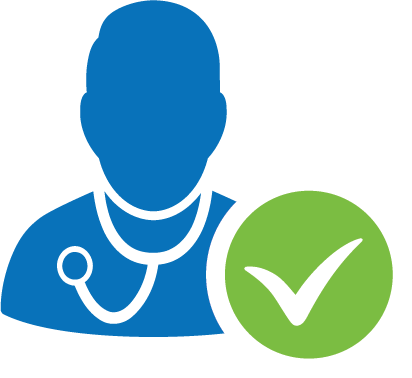 This post was reviewed by our Director of Clinical Excellence and Oversight.
CGMs are gaining attention among people with diabetes. The acronym stands for Continuous Glucose Monitor, and many health insurance plans now cover them. They are great for people who need to check their glucose levels frequently, or stay connected to loved ones who do. You may be using a traditional blood glucose monitor (BGM) and wondering if a CGM is right for you. Keep reading to find out.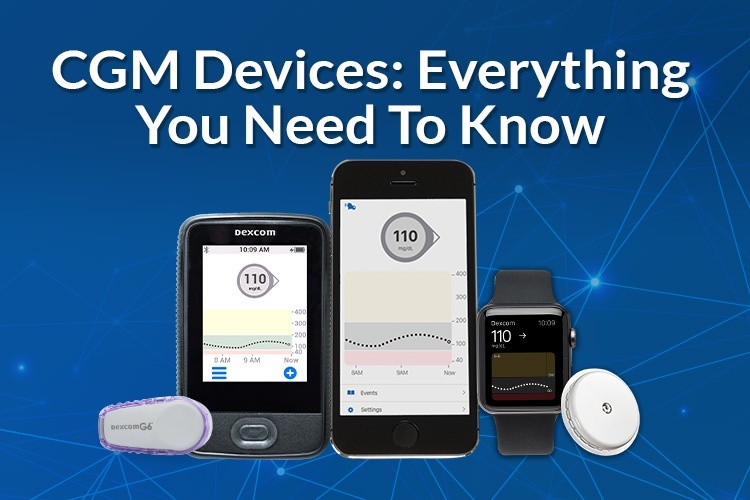 How do CGMs work?
No matter the brand that you choose, real-time CGMs work in basically the same way. There are three main parts of your CGM:
The monitor or an app on your smart device. This is where you read your current blood sugar level, historical readings, and check out trends that can predict when your blood sugar will rise and fall. The sensor is a small cannula wire that lives under the skin and detects your blood sugar level.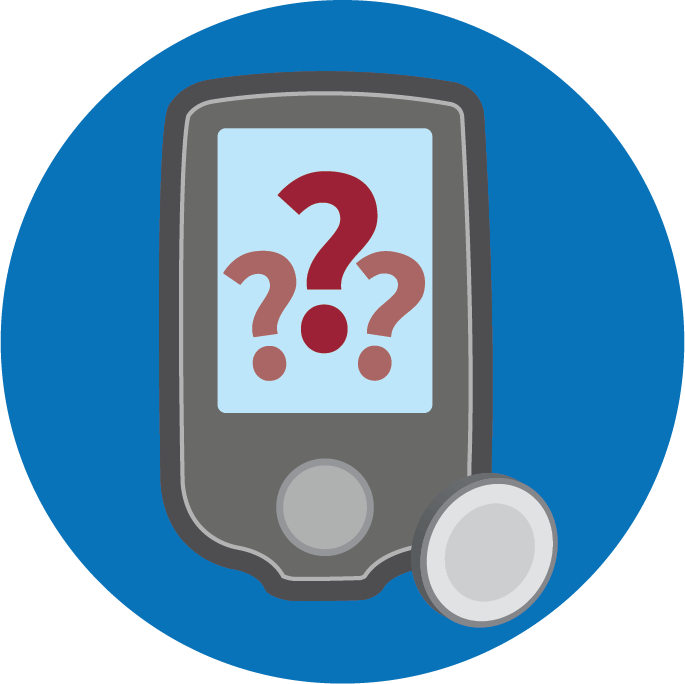 The transmitter is connected to the sensor and sends the information to the device you are using, either a monitor or your phone. (This is not a part of intermittent monitors, those differences will be explained in the next section.)
Do CGMs have a needle?
There are no needles involved, but there is a small cannula (wire) that lives under the skin and is attached to the sensor.
Who can use a CGM?
People with Type 1 and Type 2 diabetes can use a CGM with a doctor's prescription19 and meet certain criteria if covered by insurance. The Endocrine Society recommends CGM use for adult patients with type 1 diabetes who have A1c levels above seven percent.23
Can you use a CGM while pregnant?
Currently there are no CGMs on the market in the US that are indicated for use by pregnant women. But, this may change in the future.20 6 16 20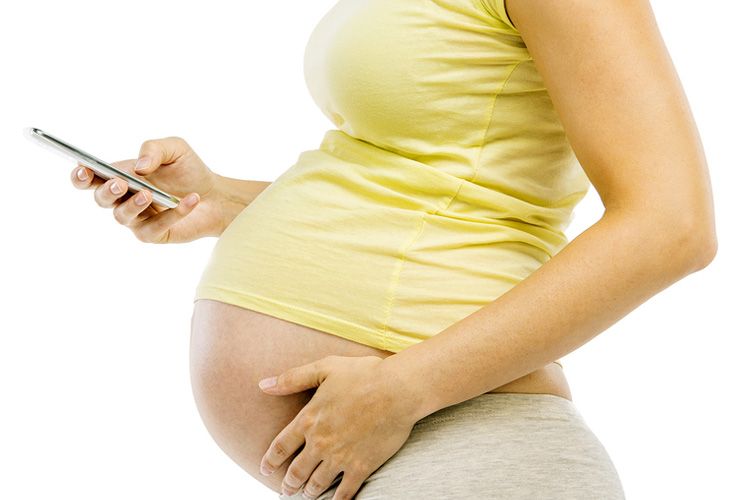 Can children use CGMs?
According to Dexcom, the Dexcom G6 is the only real-time CGM which can be used by children under 14 years of age, and even children as young as 2. This monitor can send texts to ten different phone numbers with glucose level updates. So you, your partner, and your child's healthcare team can stay informed. Plus, the Dexcom G6 is permitted by the FDA to make treatment decisions without a fingerstick calibration.
How are CGMs used?
CGM usage differs according to the type of CGM. Specifically, if it is an intermittent or real-time CGM.
With an intermittent monitor, you scan the sensor with a reader or smartphone to see the glucose level. However, because the glucose level is checked manually, there are no alarms if it dips too low or high.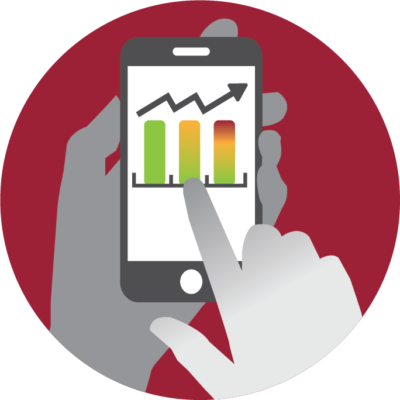 Real-Time: A real-time monitor can regularly check glucose levels and alert you to any significant changes in real-time. This constant monitoring is the primary benefit of a CGM. Armed with this instant information, the wearer can avoid potentially dangerous situations.
How often does a CGM check blood sugar levels?
The average device checks blood sugar levels over 280 times per day1, even while you sleep! This is much more frequently than a traditional blood glucose monitor (BGM) which checks between one and six times per day, depending on the user's needs. In contrast, CGMs are continually checking levels throughout the day and night.
How accurate are CGMs? Which one is the most accurate?
The accuracy of a CGM is measured by the mean absolute relative difference score (MARD). Put simply, the MARD represents the difference between laboratory glucose readings and the glucose reading from the CGM. Therefore, the lower the difference, the more accurate the CGM is. Here are the MARD scores of the top three CGMs:
Guardian Connect CGM System4:


8.7
Eversense CGM System5:

8.5
What are the best places on your body to put a CGM sensor?
This depends on which brand of CGM you use. For example:
Dexcom G6: Two options can be placed on the abdomen for ages two and older. Or the upper buttocks from ages two to 177.
Guardian Connect CGM System: Can be placed on the abdomen or the back of the upper arms8.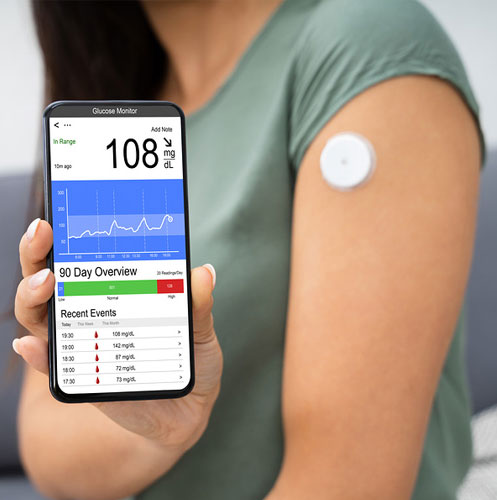 What is a fingerstick calibration, and why is it needed?
Fingerstick calibration is a traditional fingerstick test that is done to make sure the CGM is working correctly and ensuring the readings are accurate. CGMs could replace or reduce your fingerstick calibration with automatic readings every five to 15 minutes.
How long does a CGM sensor/ transmitter last before needing to change it?
This depends on which brand of CGM used:
Dexcom G6
Up to 10 days10
Eversense CGM System
Up to 90 days5
Can you sleep on a CGM sensor?
When choosing your insertion site you should make sure to choose a place that you are the least likely to accidentally bump. Sleeping on your sensor won't necessarily result in it coming loose. Sometimes they can, but are dependent on your weight, if you toss and turn, etc. Most likely, you'll get used to the CGM's presence and be conscious of it without further thought. Consult your doctor to discuss the best insertion site for you.
How much do CGMs cost?
Medicare & Medicaid Coverage
CGMs are covered by Medicaid and Medicare but because they are relatively new, coverage can be complicated. Users must meet the following criteria to be covered by Medicare or Medicaid.22 To learn more about coverage options check out our article Does Medicaid Cover CGMs.


Have a diagnosis of diabetes, either type 1 or type 2
Use a home blood glucose monitor (BGM) and conduct four or more daily BGM tests
Be treated with insulin with multiple daily injections or a constant subcutaneous infusion (CSI) pump
Require frequent adjustments of the insulin treatment regimen, based on therapeutic CGM test results.
Commercial and Private Insurance
Insurance coverage for CGMs changes frequently. To find out if your insurance plan covers CGMs let an HCD representative give you a call by entering your phone number in the bottom left of the screen.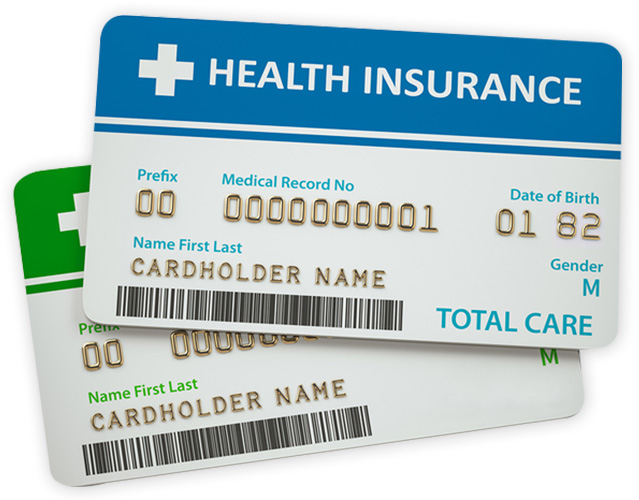 Who qualifies for an insurance-covered CGM?
To qualify for a CGM covered by your insurance, there are specific criteria you must meet, which are listed below. This is a general list, coverage can vary by payer and individual. If you choose us as your CGM supplier, it is important to know that we will require documentation of these when we talk to your doctor. If these basic qualifications aren't met, it is possible that your insurance plan may not cover the CGM devices and/or accessories.22
Unpredictable glucose levels
Hypoglycemia or hypoglycemia unawareness
A need to monitor levels frequently
Completion of diabetes self-management education
An unsatisfactory A1C test result
How much do CGMs cost out of pocket?
If insurance does not cover your CGM it is possible to buy directly from the manufacturer or pharmacy. Prices vary and are subject to change:

Dexcom G612:
Transmitter retails for about $200.
Receiver retails for about $250.
A box of three sensors retails for about $330.
Eversense CGM System13:
Starter kit, which includes a sensor, transmitter, adhesives, and start guide retails for around $1400.
Guardian Connect CGM14:
Transmitter retails for about $775
A box of five sensors retails for about $553
Depending on the severity and need of the patient, a CGM may be covered by insurance. These rules can change, but currently, CGMs are considered durable medical equipment (DME) and are covered by some plans.If you aren't sure if you're covered, contact us and we can look up your specific coverage options.
Tech Accessories
What smartwatches work best with a CGM?
At this time there are no smartwatches that pair directly with CGMs. However, your smartwatch can pair with your smartphone. When your CGM sends notifications to your phone, it can, in turn, send them to your smartwatch. Here are some of the most popular:15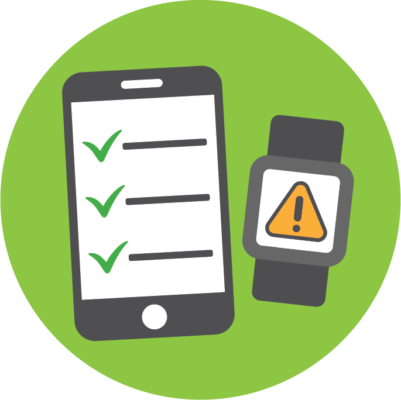 Which phones are compatible with CGM devices?
You must have a smartphone in order to use a CGM app. Otherwise, an independent monitor is needed. The app can work as your reader, but only some smartphones are compatible. Here is the list of compatible smartphones for the Dexcom G6 and the Guardian Connect System:
Dexcom G6 16:
iPhone- 5S, 6, 6 Plus, 6S, 6S Plus, 7, 7 Plus, SE, 8, 8 Plus, X, XS, XS Max, XR, 11, 11 Pro, 11 Pro Max
Google- Pixel, Pixel XL, Pixel 2, Pixel 2 XL, Pixel 3, Pixel 3 XL Samsung GalaxyS6, S6 Edge, S7, S7 Edge, S8, S8+, S9, S9+, S10, S10+, S10e Note 5, Note 8, Note 9, Note 10 (with OS 9), Note 10+ (with OS 9) J3 (Models SM-J327, SM-J330 and SM-J337) J5 (Model SM-J530) A5 (Model SM-A520) A6 (Model SM-A600) A6+ (Model SM-A605) A7 (Model SM-A750)
LG- G5, G6, G7 ThinQ, LG G8 ThinQ (with OS 9);V40 ThinQ
Huawei- P20, P20 Pro
Guardian Connect System17:
iPhone- 5s, 6, 6 plus, 6S, 6S Plus, SE, 7, 7 Plus, 8, 8 Plus, X, XS, XS Max, XR, 11
Features
Are CGM devices water- resistant?
Before you take a dip in the pool or hop in the shower, you need to be sure your CGM is water-resistant. Here are some of the water resistance features of popular CGMs: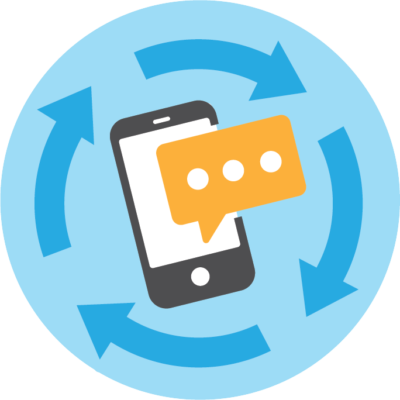 Guardian Connect System19
| Water Resistance | Time | Depth |
| --- | --- | --- |
| The transmitter and sensor are water-resistant on this model. | No longer than 30 minutes at a time | No deeper than eight feet |
Dexcom G610
| Water Resistance | Time | Depth |
| --- | --- | --- |
| The transmitter and sensor are water-resistant on this model. | No longer than 24 hours at a time | No deeper than eight feet |
Note: The monitor isn't water-resistant for any CGM models. If you're using a phone as your monitor, some phones may be water resistant but we don't recommend submerging them. Please seek the phone manufacturer's specifications for more information.
Can I automatically send updates to my loved ones?
Yes! Most CGM apps have a feature that allows texts to be sent to your loved ones so they can see your glucose levels and receive notifications. Here is how they work: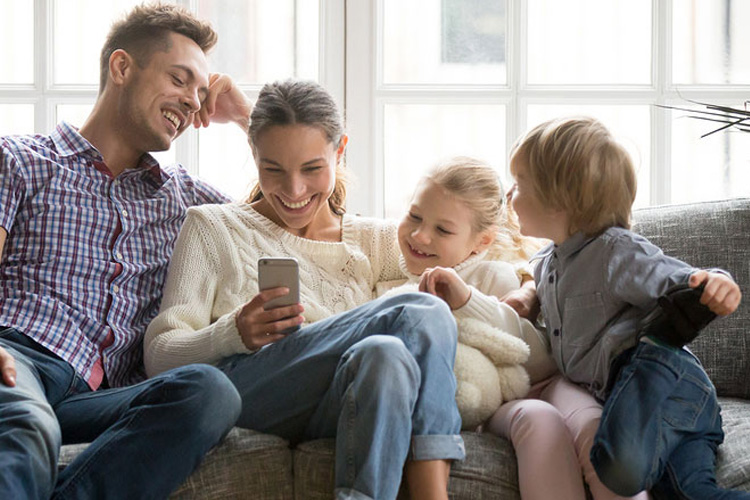 Dexcom G618: Up to Ten people can monitor your glucose data and trends on their compatible smart device with your permission.They will also need to install the app, you can invite them to start following you via the share feature.
Guardian Connect System19: The caregiver data share feature allows you to share your levels with loved ones via text message. Also, the CareLink software automatically uploads CGM data so that you quickly access it at your next doctor's appointment.
Eversense CGM System21: Up to five friends and family members can view your levels using Eversense NOW.
Get a CGM from Home Care Delivered
You can order a CGM device from us, Home Care Delivered. Our customer care representatives are knowledgeable in CGM devices and insurance coverage, unlike pharmacists or manufacturer representatives who may not be experienced or are biased to their brand. We accept many insurance plans, and take care of the paperwork so you don't have to. The CGM and accessories are delivered right to your door, and we follow up each month.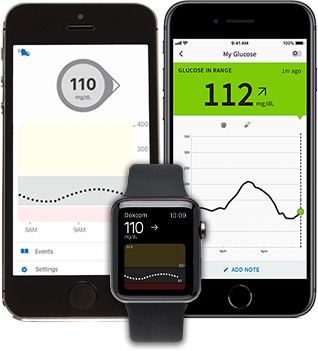 Have a question about CGMs? Ready to order? At HCD we have a wide range of industry-leading CGMs. We can provide everything from coverage information, to the device itself, to the sensors, and more. To get started, enter your phone number at the bottom left of this screen, and we'll give you a call to discuss your options for monthly deliveries. We have CGM experts and registered nurses on staff that can help you learn which device is right for you and how to use them properly. Start your CGM journey with HCD by your side.
Note: HCD does not provide the Eversense CGM System or the Guardian Connect at this time.
Get Insurance-Covered CGM & Diabetes Supplies



Monthly Deliveries | We Handle the Paperwork

Disclaimer: Unless otherwise noted, the recommendations in this document were obtained from the sources indicated. Be advised that information contained herein is intended to serve as a useful reference for informational purposes only. HCD cannot be held responsible for the continued accuracy of or for any errors or omissions in the information. All trademarks and registered trademarks are the property of their respective owners.
Sources
Additional Links and Resources
Our Most Recent Customer Reviews