CGM Devices: Everything You Need To Know
People familiar with diabetes have probably heard at least a little bit about Continuous Glucose Monitors (CGMs), the no-fingerstick way to track glucose levels 24/7. CGMs have been around for years, but the new models are better than ever, and are covered by Medicare and most private insurance.If you've been using a traditional blood glucose monitor and are wondering if a CGM is right for you or someone you care for, keep reading to get answers to some of the common questions the knowledgeable CGM customer care team answers every day. Be sure to consult with your doctor if you are considering moving to a CGM device for your blood glucose monitoring needs.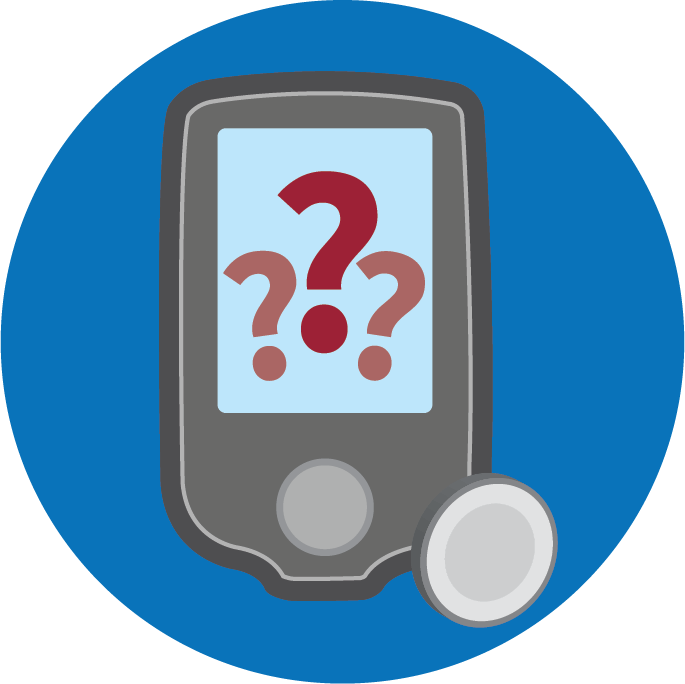 How Do CGMs Work?
The answer to this question actually depends on the system you choose. Throughout this article, we will refer to 3 of the most highly-rated CGM devices on the market: The Dexcom G6, the FreeStyle Libre 14 day system, and the FreeStyle Libre 2.
With the Dexcom G6, a tiny sensor (known as a cannula wire) is placed painlessly under the skin, typically on the abdomen, to record glucose levels. A wireless transmitter sends the information from the sensor to a monitor, your smartphone, or other device. Dexcom sensors are replaced every 10 days.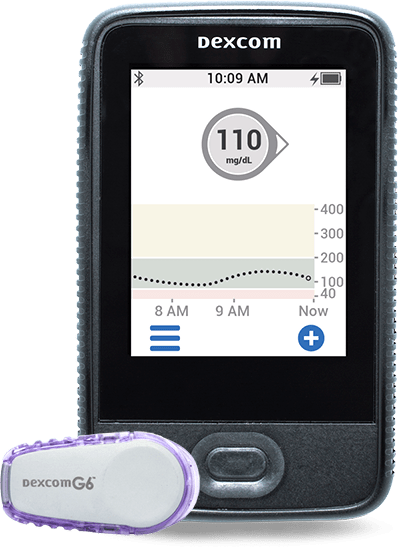 Abbott's FreeStyle Libre 14 day system measures glucose levels through a thin, flexible sensor with a thin cannula wire applied just under the skin to the back of the upper arm. Waving a cellphone (with app) or handheld reader over the sensor provides a reading, which can be sent to a smart device. FreeStyle Libre sensors can be used for 14 days. The FreeStyle Libre 2 system operates in a similar way, with optional real-time glucose alarms.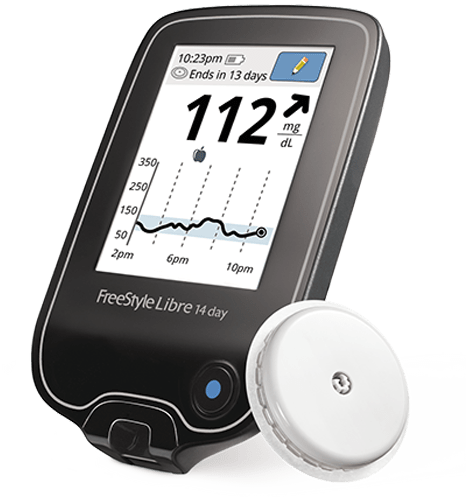 The FreeStyle Libre systems and Dexcom G6 do not need to be calibrated by a fingerstick glucose test, unless the device indicates to check blood glucose levels, when symptoms do not match system readings, or when you think the readings may be inaccurate.
Why Is a CGM Better Than Regular Glucose Monitoring?
Traditional glucose monitoring is based on a fingerstick that reveals your glucose level at that moment. CGMs deliver glucose readings all day and night, which makes it easy to see glucose levels anytime, and to track changes over time, including the time spent in your target range. The information provided by a CGM can help people with diabetes make informed decisions about food, activity, and medication. In addition, CGMs do not require sticking your finger. They are easy to wear and use.
Some CGMs have the added benefit of alarms and alerts which makes it easier for parents and caregivers to monitor a child with diabetes while they are asleep, at school, or away from home.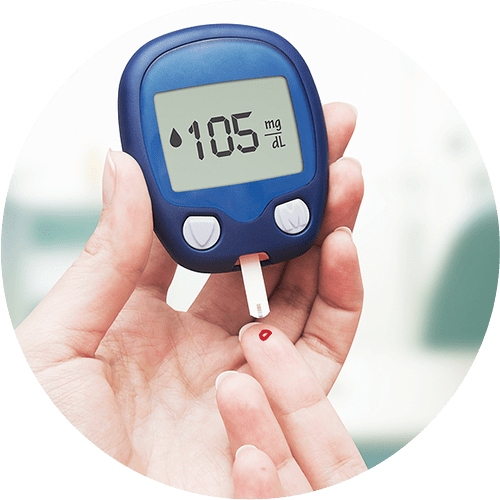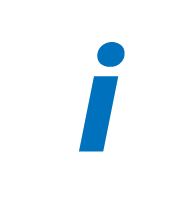 Traditional glucose monitoring is based on a fingerstick and reveals your glucose level at the moment, while CGMs deliver readings all day and night.
Who Can Use a CGM?
The FreeStyle Libre 14 day system is indicated for managing diabetes in people 18 years old and up. The FreeStyle Libre 2 system has been approved for people age four and up. The Dexcom G6 can be used by children as young as two years old. None of the systems have been approved in the U.S. for use by pregnant women, people on dialysis, or those who are critically ill.
How Often Do CGMs Check Blood Sugar Levels?
Both FreeStyle Libre systems measure glucose every minute, or 1,440 times per day. The Dexcom G6 takes glucose readings every five minutes or about 288 checks in a 24-hour period.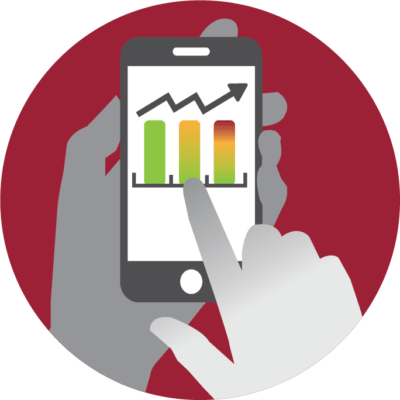 How Accurate Are CGM Systems?
CGM accuracy is measured by the MARD score, which stands for Mean Absolute Relative Difference. It represents the difference between laboratory glucose readings and the actual reading from the CGM. The lower the difference, the more accurate the device.
Freestyle Libre 14-Day:
9.4%
Freestyle Libre 2:
9.2%
(9.2% for adults, 9.7% for pediatrics)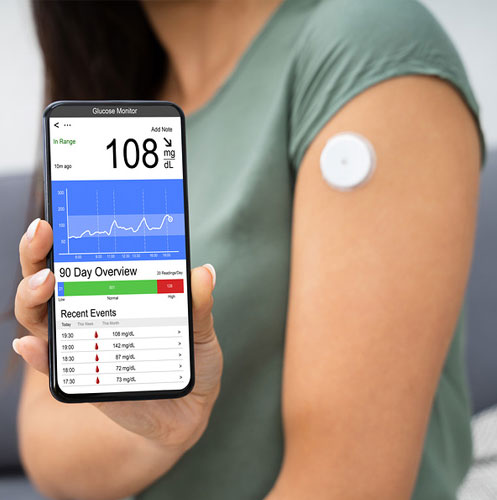 Where Are the Best Places on Your Body to Apply a CGM Sensor?
Where you place the sensor depends on the brand you choose. The Dexcom G6 sensor should be placed somewhere you have a little extra padding, such as the abdomen. Avoid areas with tattoos, where you bend at the waist, or places likely to get bumped while you sleep.
Makers of the FreeStyle Libre systems recommend that the sensor be placed on the upper arm.
Are CGMs Compatible with Smartphones and Other Devices?
Yes, and that compatibility is improving all the time. Dexcom G6 lets you see your glucose numbers by glancing at your smart device or receiver. You can also get an alert when glucose levels are getting too high or too low. The FreeStyle Libre 14 day system has an app (LibreLink) that sends glucose readings to your smartphone, or one called LibreLinkUp that lets you share the data with others. FreeStyle Libre 2 offers BlueTooth connectivity for optional alerts. (See the list of compatible mobile phones below.)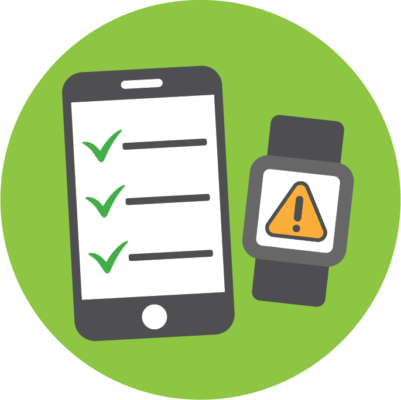 What Phones Are Compatible with CGM Devices?
The FreeStyle LibreLink app is compatible with NFC-enabled smartphones running Android OS 5.0 or higher and iPhone 7 or later running iOS 11 or later. The NightRider and LinkBluCon apps work with the Apple watch to display glucose readings from the FreeStyle Libre 14 day and Libre 2 sensors on an Apple watch without the iPhone.
Dexcom G6 is compatible with the following: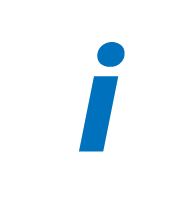 CGMs have been around for years, but the new models are better than ever, and are covered by Medicare and most private insurance.
Are CGM Devices Water-Resistant?
The FreeStyle Libre 14 day sensor is water-resistant. According to the manufacturer, it will continue working as long as it is not submerged more than three feet or kept underwater longer than 30 minutes at a time.
Dexcom G6 transmitters are water-resistant, and the G6 sensor pod is water-resistant when the transmitter is installed properly. The receiver is not water- resistant or waterproof, and can be damaged if moisture gets inside it.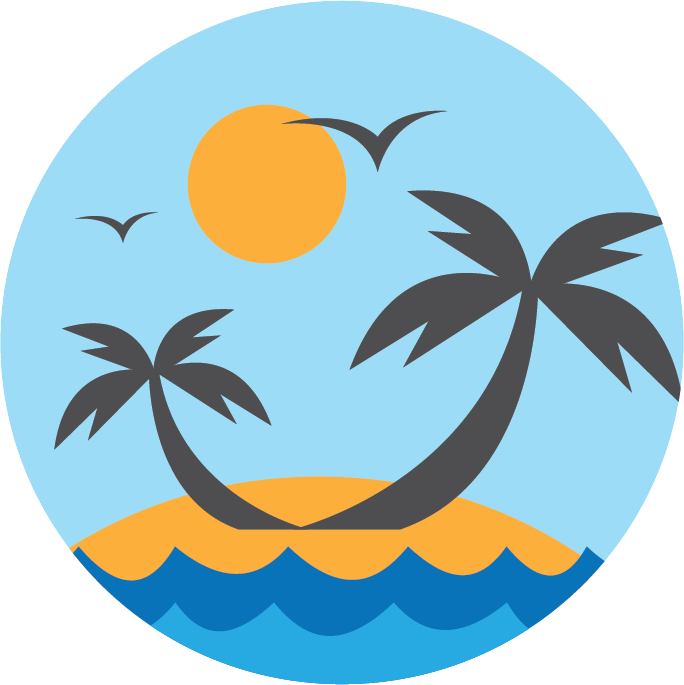 CGM, Good Decisions, and Good Diabetes Management
Information is power, and that's certainly true for people with diabetes. The more you know about your glucose levels, the better decisions you can make. Talk with your doctor about the benefits of a Continuous Glucose Monitor and find out if this no-stick glucose monitoring method is a good choice for you!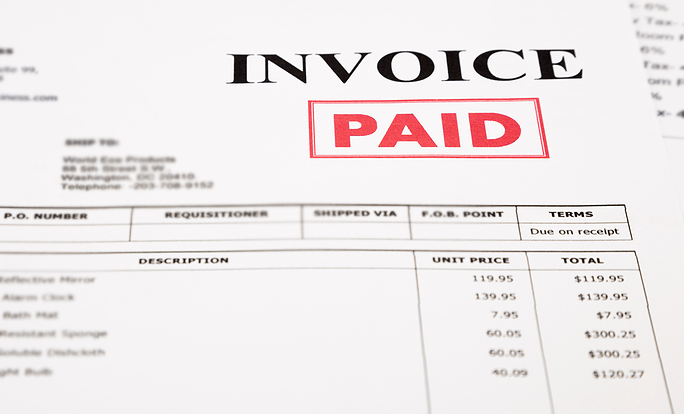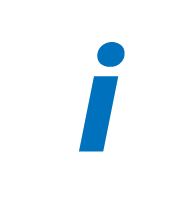 FreeStyle Libre and Dexcom G6 CGMs are covered by Medicare and most private insurance
Let HCD Do the Rest
HCD has a wide range of diabetes supplies and our experts can coordinate with your health care professionals to help you get the products you need for your diabetes management. Supplies can be shipped right to your door, and we handle all the paperwork. Our knowledgeable customer care representatives can answer your questions about insurance coverage. Let us give you a call by entering your phone number on the bottom left of the screen. We are eager to help. Call us or enroll online today.
Disclaimer: Unless otherwise noted, the recommendations in this document were obtained from the sources indicated. Be advised that information contained herein is intended to serve as a useful reference for informational purposes only. HCD cannot be held responsible for the continued accuracy of or for any errors or omissions in the information. All trademarks and registered trademarks are the property of their respective owners.
Get Insurance-Covered CGM & Diabetes Supplies
Monthly Deliveries | We Handle the Paperwork