Understanding key differences in continuous glucose monitors.
If you're living with diabetes and are considering making the switch to a Continuous Glucose Monitor (CGM), you've probably got questions about how they work, how to use them, and if they are right for you.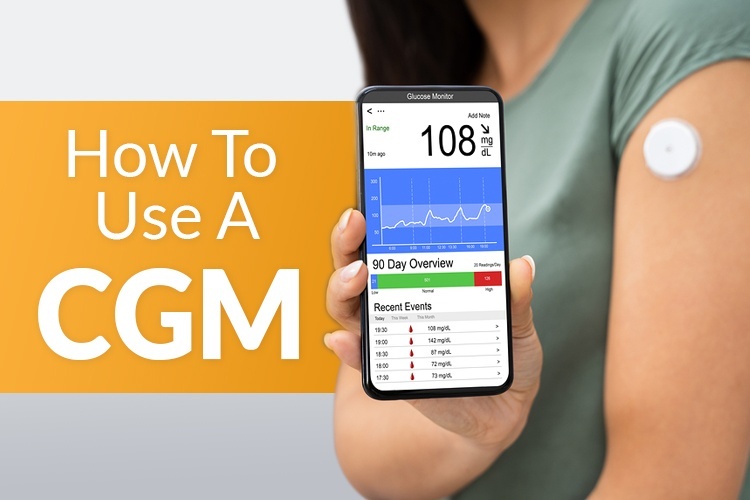 CGMs are designed as an easy-to-use alternative to fingerstick blood glucose monitoring. It's no surprise that in the last 20 years, hundreds of thousands of people have chosen CGMs to help with their diabetes management. They are small, painless, and are compatible with smartphones and other devices.
CGMs take blood sugar readings 24/7. This gives users a wealth of information they can use to keep their glucose in their target range. The devices can be worn while exercising, showering, or swimming. While they can be costly, for many people with diabetes, the cost is covered by Medicare and most private insurance plans.
For more information about how CGMs work and why many people living with diabetes prefer them, check out CGM Devices: Everything You Need to Know.
Continuous Glucose Monitors take readings 24/7. This gives users the information they need to balance food, exercise, and medication to keep their blood sugar in the target range.
How Does a CGM Work?
The heart of any CGM is a tiny sensor, which has a filament that is inserted under the skin of a person with diabetes and captures glucose data. How information gets from the sensor to a monitor or smartphone depends on the device you choose—some use transmitters, and others do not.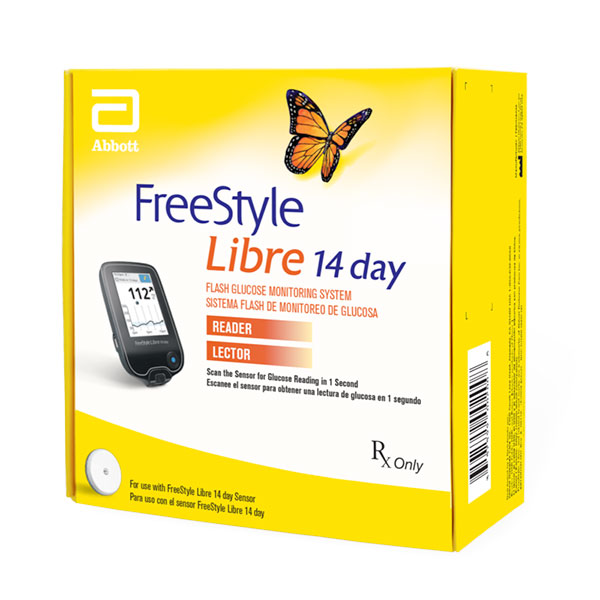 Let's look at two leading CGMs: the Dexcom G6 and the FreeStyle Libre 14 day system. Although they work in basically the same way, understanding key differences can help you make an informed decision when considering switching your blood glucose monitoring method to a CGM device.
How Does the FreeStyle Libre Work?
To use the FreeStyle Libre 14 day system, you press a thin sensor onto the back of your arm with an applicator. The sensor contains a tiny filament that is inserted under the skin and remains in place for 14 days. Waving a handheld reader or cellphone (with app) over the sensor provides the glucose reading.
The FreeStyle Libre 14 day system:
Takes a reading every minute around the clock, or 1,440 in a 24-hour period.
Does not require fingerstick calibration unless the system indicates.
Stores 90 days of glucose data.
Can be used by people 18 years and older but is not approved for pregnant women, those on dialysis, or people with chronic health conditions.
The FreeStyle Libre 2 system is similar, but offers optional real-time alarms that let you know if your glucose is heading too low or too high. This device is approved for ages 4 and up.
How Does the Dexcom G6 Work?
Like FreeStyle Libre, to use the Dexcom G6 you press a thin sensor onto the skin, usually on the abdomen. The sensor can stay in place for 10 days.
One of the big differences between the FreeStyle and the Dexcom is that Dexcom G6 uses a wireless transmitter that sends the information from the sensor to a receiver, your smartphone, or other device. The transmitter lasts for 90 days. Dexcom G6 data can be shared with up to 10 other devices which provides an easy way to share data with caregivers and healthcare providers.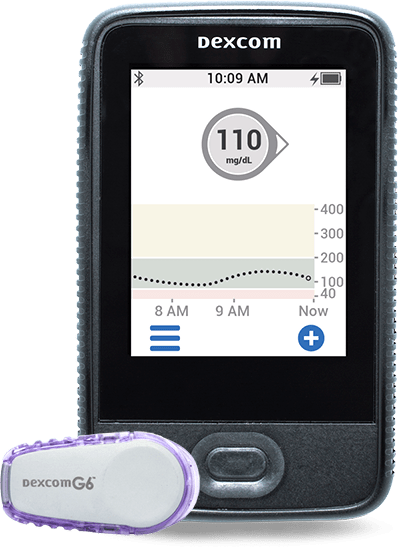 The Dexcom G6:
Takes readings every five minutes around the clock, or 288 in a 24-hour period.
Displays the reading without scanning.
Offers customizable alerts and alarms.
Does not require fingerstick calibration unless the system indicates.
Can be used by children as young as 2 years old, but is not approved for pregnant women, those on dialysis, or people with chronic health conditions
Which CGM Is Right for You?
Choosing a CGM is like making any other healthcare decision—the key is to understand your options and how they meet your health and lifestyle needs. Discuss using a CGM with your healthcare provider. You may also want to talk with people who are using the devices you're considering. Ask questions about their experience and find out what they like and don't like.
Are You Ready for Continuous Glucose Monitoring?
If you've been living with diabetes for a while, switching from traditional fingerstick monitoring to Continuous Glucose Monitoring will take a little getting used to. If you are newly diagnosed with diabetes, incorporating a CGM can make your diabetes management much easier. Either way, users say using a CGM is well worth it. They love the convenience and the real-time information the devices provide.
CGMs can be especially helpful for active people on-the-go.  A quick swipe, or a glance at your phone, can tell you what's going on with your glucose level, even while you're out walking, shopping, or about to sit down for a meal. If your glucose is getting too high or too low, you can decide to increase your medication or grab a quick snack. CGMs let you say goodbye to painful fingersticks and use dynamic data to stay healthy.
Let HCD Do the Rest
Home Care Delivered would like to be your partner in diabetes management. We've got the information and the latest devices to help keep your blood sugar under control!
HCD carries a wide range of diabetes supplies, including the Dexcom G6, the FreeStyle Libre 14 day system, and the FreeStyle Libre 2. We have experts on staff who can coordinate with your health care professionals to help you get the products you need. Supplies can be shipped right to your door, and we handle all the paperwork. Let us give you a call by entering your phone number on the bottom left of the screen. We are eager to help, call us, or enroll online today.
Get Insurance-Covered CGM & Diabetes Supplies
Monthly Deliveries | We Handle the Paperwork
Disclaimer:
Unless otherwise noted, the recommendations in this document were obtained from the sources indicated. Be advised that information contained herein is intended to serve as a useful reference for informational purposes only. HCD cannot be held responsible for the continued accuracy of or for any errors or omissions in the information. All trademarks and registered trademarks are the property of their respective owners.