Diabetes and Your Mental Health
If you've ever felt frustrated, or even fed up, with managing a medical condition such as diabetes that may be with you forever, you are not alone. For many people, such negative feelings are temporary and may go away on their own as your mood changes. For others, however, bouts of sadness, anxiety, and hopelessness could signal depression and may need to be addressed with professional help.
Individuals with diabetes (type 1 or type 2) face a higher risk of developing depression than people without diabetes. According to the American Diabetes Association (ADA), as many as 40 percent of people with the condition say they've struggled with their psychological wellbeing since being diagnosed.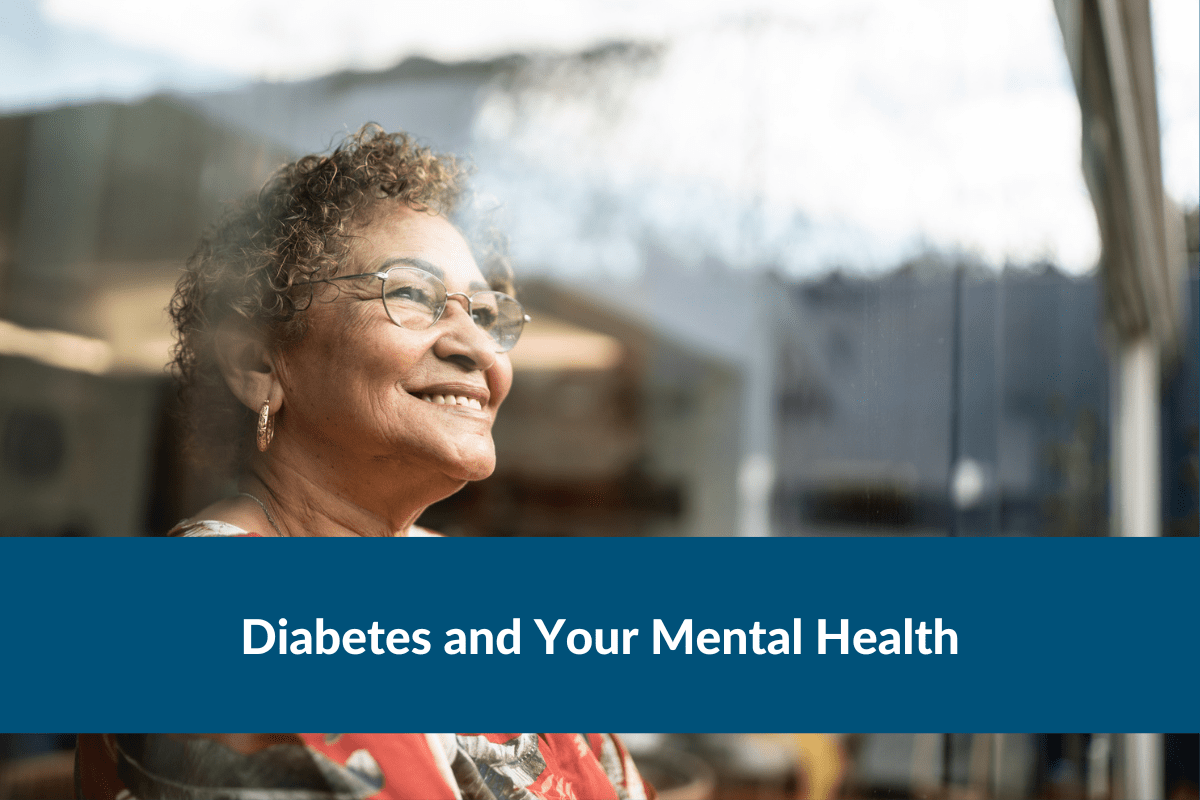 Chicken or Egg?
The link between diabetes and depression can be confusing. That's because they share some symptoms, such as feeling tired and sleeping a lot, and difficulty concentrating. While diabetes is not a direct cause of depression, the nature of the disease can affect your emotional health. Some of the reasons diabetes can trigger bouts of depression include: 
The challenge of managing diabetes can be stressful and lead to symptoms of depression.
Diabetes can cause health problems that may worsen symptoms of depression.
Depression can lead to poor lifestyle choices, like unhealthy eating, lack of exercise, weight gain, and smoking, which can worsen a person's diabetes.
Diabetic highs or lows (hyper or hypoglycemic episodes) can alter a person's mood and thinking.
A person who is feeling depressed may be less able to perform self-help tasks and to communicate clearly, getting in the way of successfully managing their blood sugar.
Does Any of this Feel Familiar?
German researchers found that about one in four people with type 1, and one in five people with type 2 diabetes, have "diabetes distress," defined as stress related to the challenge of managing your disease. Symptoms can include anger, worry, isolation, inattention to tasks, and low motivation to manage your diabetes. You can read more about diabetes distress in our blog, Is Stress Spiking Your Blood Sugar?
Depression is different from diabetes distress. It's a serious mental health condition that's more than "having the blues" for a day or two. If one or more of these symptoms persists for longer than two weeks, talk with a member of your healthcare team.
Little interest in seeing anyone or doing anything. If you have diabetes, that could include monitoring blood sugar, taking meds, or attending appointments.
Feeling down in the dumps often, and for long periods of time.
Frequently waking at night or having trouble getting out of bed in the morning.
Feeling more tired than usual and moving slowly.
Overeating or not eating enough; both are potentially harmful to your blood sugar.
Feeling restless, jittery, and easily distracted.
Having suicidal thoughts.
Diabetes can worsen depression in some people because they feel ashamed to have the disease, guilty that they're not properly managing things, or just worried about  the consequences of having diabetes on their healthy or their pocketbook.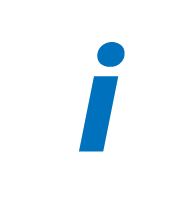 According to the American Diabetes Association, as many as 40 percent of people with diabetes say they've struggled with their psychological wellbeing since being diagnosed.
Is There a Solution?
There are strategies that will help you feel better, but there is no pill or magic concoction that will make the signs of distress or depression suddenly disappear. Instead, you and your healthcare providers can look for the underlying causes of your depression.
Is it anger? ("Why me?" "It's not fair!") Or fear? ("What will happen to me?) Perhaps it's the feeling of having less control over your health? Or maybe it's a sense that you've been unfairly targeted. Once you sort out the reason, short-circuit the feeling with on-the-spot behavior changes when you feel yourself starting to fall into that mindset. Some things you can do are:
Breathe deeply
Drink some water
Get out for a short walk if possible
Change your physical position—lean back, sit down, etc.
Shake out your arms and shoulders
Whether you're feeling angry, distressed, or depressed, action steps like these can help you feel better:
Try therapy. Also known as cognitive behavior therapy, talking to a counselor can help you identify the triggers for your anger or depression and learn to manage them. Ask your primary care provider to recommend a therapist.
Move more. People who live with diabetes know that exercise helps to keep blood sugar and weight in range. Physical activity is also a proven depression-buster. You don't have to run 10 miles to benefit. Try a brisk walk with a favorite pet or person.
Consider medication. Many people, including those with diabetes, get relief from antidepressants, which boost brain chemicals that lift your mood. You'll need a prescription from your primary provider or mental health specialist.
Talk it out. Spending time talking with people close to you can do wonders when you're feeling down.
Join a self-help group. A group, online or live, can connect you to others going through the same things you're experiencing.
Do more of what you love. Crazy about cooking or singing in a choir? Use your passions to help you climb out of sadness and gain a fresh perspective.
The bottom line for anyone, regardless of blood sugar status: Don't hesitate to get help. Pay attention to warning signs like extended periods of feeling sad or hopeless, loss of interest in activities, uncontrolled eating or drinking, or ignoring diabetes self-care.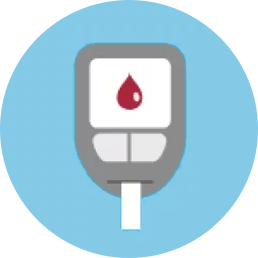 German researchers found that reducing depressive symptoms resulted in better glucose control and a reduction in A1C.
It's a Win Win
Tackling depression can improve your state of mind. It can also improve your diabetes. German researchers found that reducing depressive symptoms resulted in better glucose control and a reduction in A1C, (a measure of blood sugar over a two-to-three month period). One reason is that when people feel less depressed, they take better care of themselves.
Another sure-fire way to beat stress is home delivery of the diabetes supplies you need, like lancets, test strips, and Continuous Glucose Monitors from the diabetes experts at Home Care Delivered. If you haven't yet signed up, call 866-904-0815 and a Home Care Delivered customer care specialist will walk you through our simple process. You can also enter your phone number on the bottom left of the screen and we'll reach out to you.
If you have diabetes, you're entitled to an occasional grumble about everything you need to do to manage your condition. If, however, you're feeling seriously down and fear it might be depression, please see a mental health professional. Help is out there and you deserve it!
Disclaimer:
Unless otherwise noted, the recommendations in this document were obtained from the sources indicated. Be advised that information contained herein is intended to serve as a useful reference for informational purposes only. HCD cannot be held responsible for the continued accuracy of or for any errors or omissions in the information. All trademarks and registered trademarks are the property of their respective owners.