New Caregiver Tips: How To Provide The Best Care For Your Loved Ones
The first thing that you need to know about becoming a caregiver is this: You're doing a wonderful thing. Giving part of your life so that another can live theirs is an amazing gift. Yes, the responsibility is huge, and it involves a lot of change, but it's also an incredibly rewarding experience.
As you begin you caregiver journey, it's important to be aware of some crucial tips that will help you provide the best care you can. Here are some caregiver tips that can help as you prepare to take on your new role.
Be Emptathetic:
One of the best things you can give to the person you're caring for is empathy. Understanding their feelings, the new challenges they face, and the limitations their needs put on their lives will go a long way, helping them to maintain their dignity through the adjustment.
Encouragement and enthusiasm are good ways to do this. Demonstrate your support by listening to them and acknowledging their feelings. Be genuine when you communicate. A big part of being a caregiver is not just helping with day-to-day tasks, but also helping the individual feel dignified and confident.
Be Patient:
For many people, the need for a caregiver is a not an easy adjustment. It's difficult to acknowledge that loss of independence, and some take longer than others to get there. Until they do, you may experience some resistance to your help.
When this happens, try to be patient. Remember that they are going through a major life change, and it may take a while to accept. Your assistance will not always be met with appreciation, but don't let that dishearten you. The care you provide is still an amazing and important gift, even if it goes unrecognized.
Be Firm:
One of the tough balancing acts you'll have to manage as a caregiver is between patience and firmness. While it's very important to be patient, there will be times when a little assertiveness is going to be necessary in order to provide the help that's needed. The person you care for may not like it, but remember that you are there to do what is best for them.
The best strategy for being firm is to first demonstrate how much you care. People respond better to confrontation when they know it comes from sincerity. If they believe that your actions will genuinely serve their well-being, there's a much better chance that they'll accept your help.
Acknowledge Your Limitations:
It may be tough to do, but acknowledging your own limitations is an important part to being a good caregiver. Overreaching is a common problem that caregivers face, and those who do tend to become too exhausted to continue providing the best care possible. It's better for both you and the person you care for to recognize your own restraints before they cause future problems.
Start by identifying the areas that you may think you need help with. If time is an issue, then find someone who can help fill in when you need it. If there are care needs you're not sure how to perform, talk with a healthcare professional about possible solutions. It's never wrong to admit you can't' do it alone; the reality is that nobody can, so get support when you need it.
Make a Schedule:
Becoming a caregiver means new responsibilities that demand more of your time. For people who have busy lives, finding that time can be extremely difficult. That's why making a schedule is so important; it will help remove some of that stress and allow you to follow a daily routine with confidence that you can accomplish what you need to do.
Schedules are also important because they help set expectations between you and the person you care for. You both will have an understanding of the routine, which will eliminate unnecessary anxiety and worry. Just make sure that you discuss a schedule together so that it works for both of your needs.
Find Great Resources:
As a new caregiver, you're going to have a lot of questions. Finding great resources that answer these questions will help keep you from feeling overwhelmed. A good first step is to talk with a healthcare provider, who may have some good suggestions about where to look. Websites and online journals offer plenty of information about what to expect as a caregiver. Joining a network of other caregivers will allow you to learn directly from the experiences of others who are going through a similar situation.
As you find these resources, make sure you keep track of them for later. More questions are going to arise as you continue to provide care, so having a network you can turn to for answers will be very important for your future needs.
Take Care of Youself:
Lastly, and most importantly, make sure that while you care for another, you also care for yourself. Being a caregiver is an amazing sacrifice, but don't let that keep you from staying healthy. If you're not at your best, then both you and the person you care for will be affected.
Make sure that you still get plenty of rest and maintain a healthy diet. If you have an exercise routine, continue to follow it. It's also a great idea to find stress-relieving activities that you like and make time to enjoy them. Going out with friends or socializing will also help reduce stress and keep you centered.
Above all else, remember this one important fact: You are making a huge difference in someone's life. Caregiving truly is a gift of your time, energy, and love. Never forget the result of that effort, and take pride in the fact that because you, someone else's life is that much better.
Medical Supplies Delivered to Your Door
Accurate Orders |  Fast Delivery | Product Expertise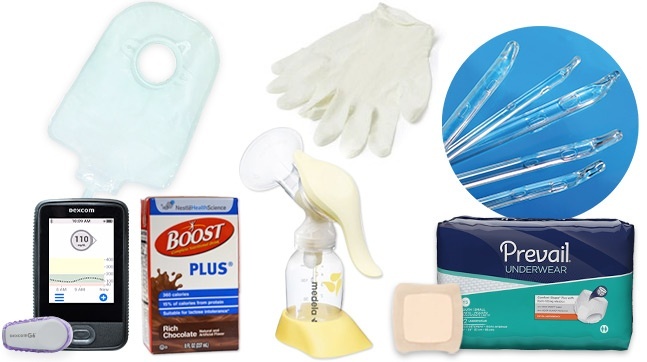 Disclaimer: Unless otherwise noted, the recommendations in this document were obtained from the sources indicated.  Be advised that information contained herein is intended to serve as a useful reference for informational purposes only. HCD cannot be held responsible for the continued accuracy of or for any errors or omissions in the information. All trademarks and registered trademarks are the property of their respective owners.