Compassionate, Caring, and Innovative: What HCD Employees Really Think About Working at HCD 
"I love my job because I love what Home Care Delivered stands for. Customers are living better lives due to our service and the care that we have for the patients and each other."

"The employees are genuine and collaborative. Everyone cares about doing a good job and taking care of our customers."

"Home Care Delivered has the absolute best culture I've ever experienced. Every teammate and customer is truly cared about. We all take what we do both personally and seriously to ensure the best level of care is provided to one another and our customers. We are truly one team!"
The responses above were collected by a neutral 3rd party company, Energage, as part of their Top Workplaces competition. This annual survey of companies throughout the United States uses research-based statements that are proven to predict high performance against industry benchmarks. The companies that score the highest on the survey are identified as a Top Workplace in one of 60 different markets throughout the United States.
More than 98% of HCD employees voluntarily took part in the Top Workplaces survey. They anonymously answered questions about HCD's culture and leaders, their managers, and the jobs they perform every day.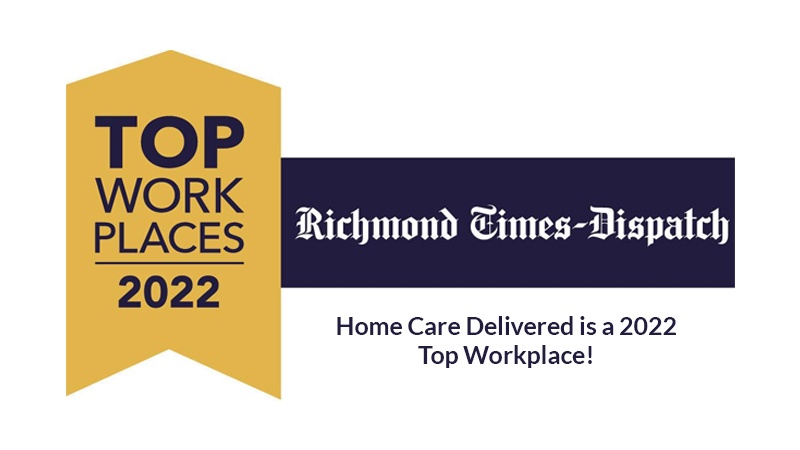 Why Employee Opinions Matter
Not every company takes the time to ask their employees about the good, bad, and ugly of their daily work experience. But to the HCD leadership team, these types of questions are essential.
Why?
Because Home Care Delivered has always been a company that believes that the first step in taking great care of your customer is to take great care of your employees. And sure enough, when the results of the Top Workplaces survey came in, the HCD team had many reasons to celebrate!
2022 Top Workplace
First, Home Care Delivered earned regional recognition from the Richmond Times-Dispatch as a Top Workplace for 2022. This award means that HCD is designated as one of the best places to work in the Richmond, Virginia region. Top Workplace rankings are based entirely on employee feedback and companies with the highest overall average scores (compared to other like-sized companies in their region) qualify as Top Workplaces.
What sets a company apart as a Top Workplace? According to Eric Rubino, CEO of Energage, the answer has to do with the company's culture. "Top Workplaces put the employee at the center of things and focus on creating the right culture to unleash potential and inspire performance," he said.
HCD's employees agreed. "I get to work remotely. I have wonderful coworkers. I feel like what I do makes a difference," one employee noted. "I am allowed to do what I do best and help patients at the same time. It allows me to make the most of my skills and enhance and help them grow along with helping people," said another.
Home Care Delivered's culture and values were consistently cited by employees as a main reason they enjoy working at HCD. In fact, the words that HCD uses to describe the company's culture and values were often cited by employees as a reason they love working for HCD.
These Five Ideas Encapsulate HCD's Culture and Values:
Inspire: We are a high performing team, united by a common purpose.
Innovate: We strive to relentlessly collaborate and improve.
Be Compassionate: We act in a way that prioritizes being kind, caring and respectful.
Show Gratitude: We honor our teammates, partners, and customers.
Act Boldly: We dream big and move with courage.
And the word cloud below shows responses to the survey question that asked, "What three words best describe the culture at Home Care Delivered?" The words in this word cloud are sized by how much more frequently they were cited at Home Care Delivered compared to other similar organizations.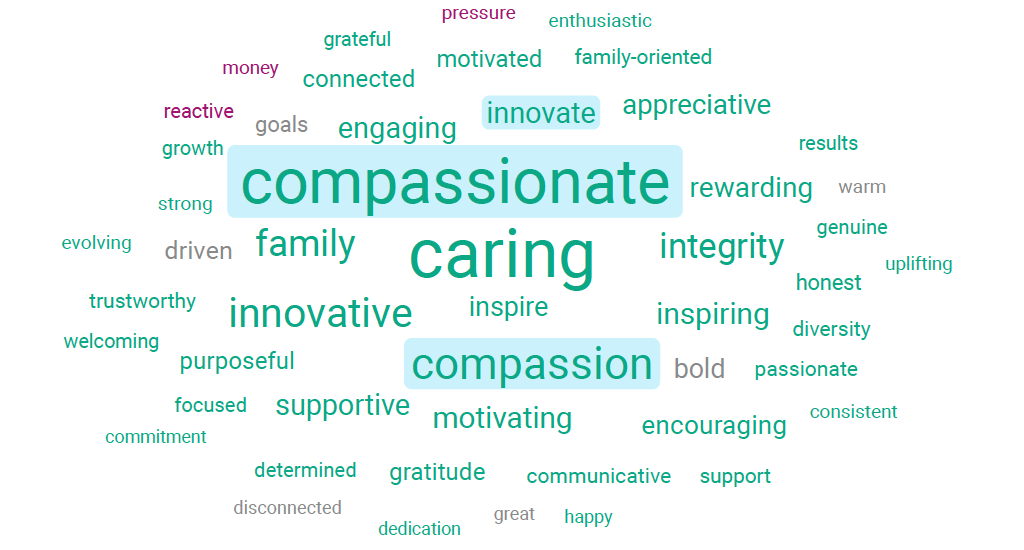 11 Culture Awards
Following HCD's success as a Top Workplace contender in the Richmond, Virginia region, HCD was compared to like-sized companies throughout the United States to see how the company rated for 12 different "Culture Drivers." HCD was awarded 11 out of 12 possible Culture Badges, which indicate that HCD scored in the top 25% of organizations in our benchmark surveyed in the past 12 months. HCD's Culture Badges include:
Innovation: Employees believe new ideas are encouraged.
Clued-In Employees: Employees feel well-informed about important decisions.
Supportive Managers: Employees feel the managers at Home Care Delivered care about their concerns and help them learn, grow, and succeed.
Strong Values: Employees believe HCD operates by strong values.
Open Minded: Employees believe HCD encourages different points of view.
Meaningful Work: Employees jobs make them feel like they are part of something meaningful.
Leaders In-The-Know: Employees believe senior managers know what is really happening at Home Care Delivered.
Employee Appreciation: Employees feel genuinely appreciated at HCD.
Company Direction: Employees believe HCD is going in the right direction.
Work Life Balance: Employees have the flexibility they need to balance their work and personal life.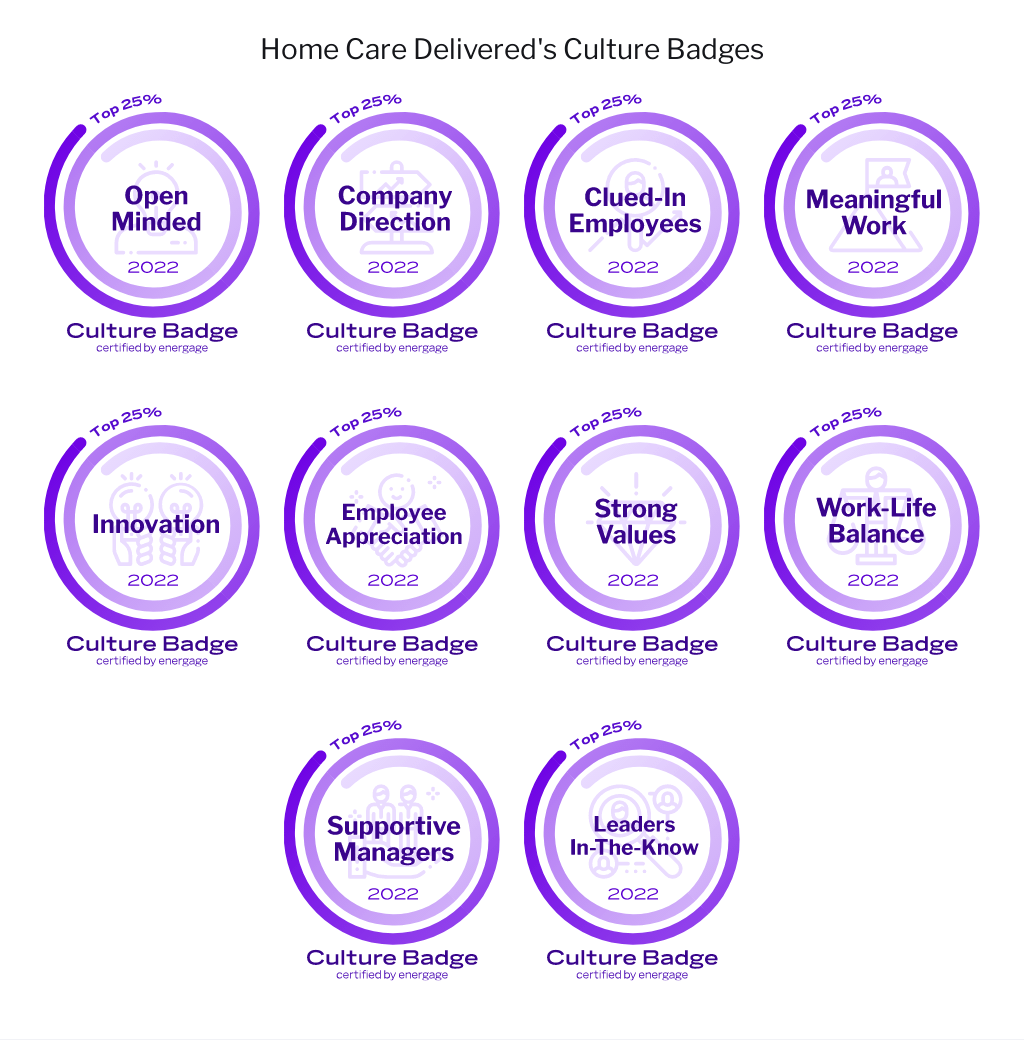 HCD's Trusted Leader
 In addition to the above Culture Badges, HCD earned one more honor by scoring in the top 5% of all companies for Trusted Leader. This award signifies that HCD employees have confidence in the leaders of HCD. HCD's CEO Gordy Fox, who founded the company more than 25 years ago, began as a caregiver to his ailing grandmother and father. From the company's earliest days, Gordy has made it a priority to provide the best customer care in the industry. Employees have always been instructed to serve each customer as they would their own grandparent. This focus on caring has been extended within the team and employees have taken notice. "The company cares about me as a person and not just an employee," said one employee in the survey.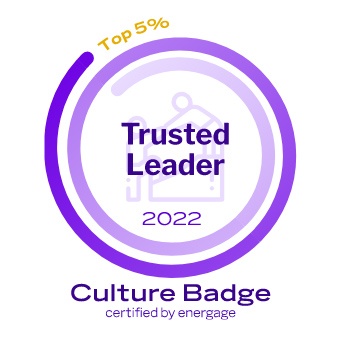 We Take Care of Each Other and We'll Take Care of You!
With a culture of caring evident in everything we do, you can rest assured that the HCD team will take great care of you or someone you care for. We will manage the paperwork your insurance requires, we will communicate with your healthcare team, and we'll always follow up to make sure you know exactly what is going on with your order. Call 866-938-3906 and speak with a member of our super-friendly customer care team to find out how we can help you get the medical supplies you need to manage your diabetes, urological condition, advanced wound, ostomy, or incontinence. Or enter your phone number on the bottom left of the screen and we'll reach out to you. We carry top brands such as Dexcom and FreeStyle Libre CGMs and you'll speak with a member of our team who is working hard to make sure you get the customer care you deserve.
We look forward to taking care of you and ensuring you always have the supplies you need to live with confidence and dignity. And if you want to join our purpose-driven team, check out HCD's open positions. We'd love to have you as a member of the HCD family.
Disclaimer:
Unless otherwise noted, the recommendations in this document were obtained from the sources indicated. Be advised that information contained herein is intended to serve as a useful reference for informational purposes only. HCD cannot be held responsible for the continued accuracy of or for any errors or omissions in the information. All trademarks and registered trademarks are the property of their respective owners.