9 Things to Know About Your Glucometer
If you have been diagnosed with diabetes, you may have checked your blood sugar (glucose) thousands of times. Or, if you are new to the diabetes community, this whole fingerstick thing might still be a little strange. Either way, we think you'll benefit from this update on best practices for using a traditional glucose meter (glucometer), plus tips for making monitoring as easy and effective as possible. An alternative to the glucometer for those diagnosed with diabetes is a Continuous Glucose Monitor (CGM), a wearable device that tracks your glucose 24/7 mostly without fingersticks. Get answers to common questions about CGMs here.
At-home glucose testing was first introduced in the 1970s. For people living with diabetes, it has become an essential tool to ensure that blood sugar is in target range. As a snapshot in time, it lets you know how well your medication, exercise, and food choices are working together to keep your blood sugar from getting too high (hyperglycemia) or too low (hypoglycemia). You'll want to test as frequently as recommended by your doctor and keep track of the results. Reviewing the numbers lets you and your healthcare team monitor your progress and make any needed changes.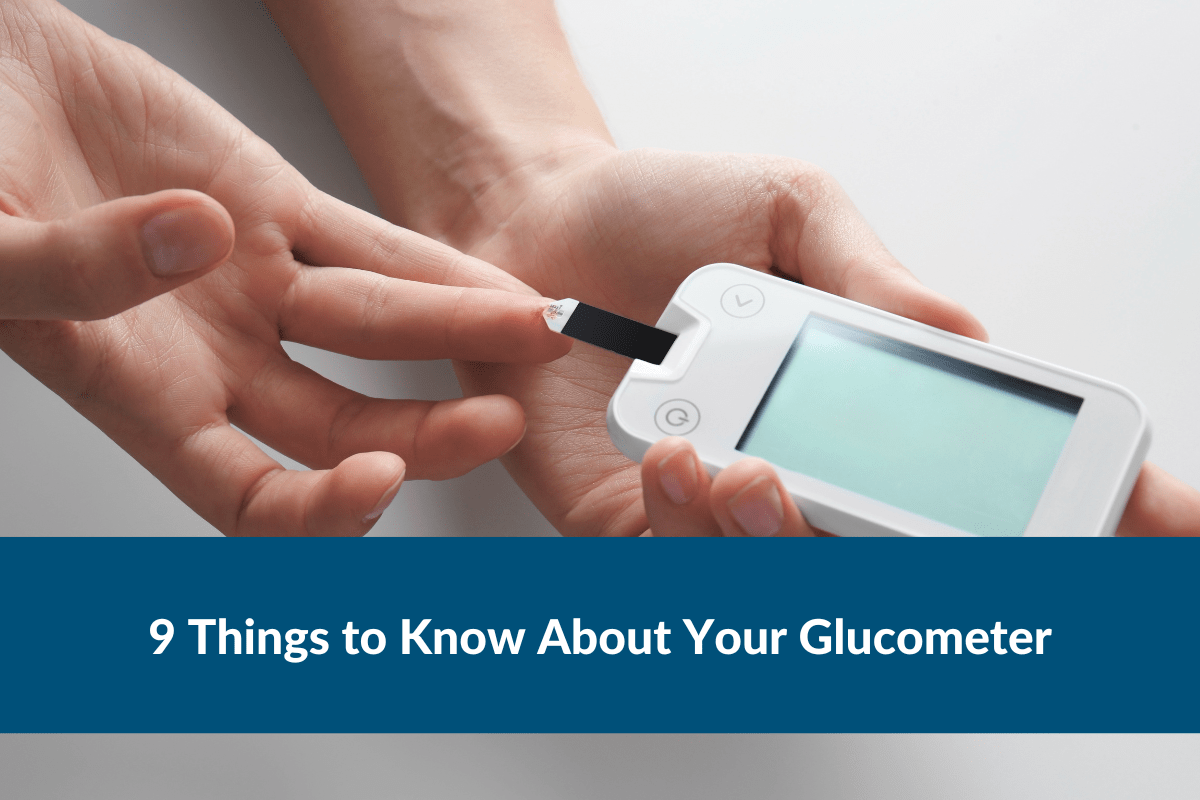 The Mechanics of Monitoring
Although there are differences, all glucometers work in a similar manner. Your kit will include the meter itself, as well as a supply of testing strips, and small needles, or lancets, that you will use to prick your finger. Most kits also come with a device to hold the needle and some kits come with a logbook. It's also easy to find apps and downloadable logs to store your results digitally.
The basic operation of the equipment is fairly straightforward. Here's what's involved:
Wash your hands and insert a test strip into the meter.
Use the lancet to prick your finger to collect a drop of blood.
Touch and hold the edge of the test strip to the blood.
Check the display on the meter for your result.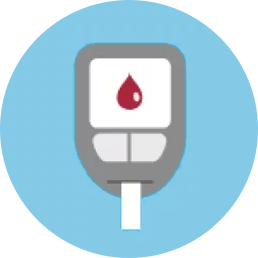 Use a control solution to test your glucometer if you get an unusual result, if you drop your equipment, and every time you open a new container of test strips.
9 Helpful Tips
As promised in the title of this blog, here are 9 things to keep in mind as you use your glucometer to check your blood glucose levels.
Make sure you're doing it right. If you're new to testing, or using a new device, ask a member of your healthcare team to watch you test yourself. This is a great way to make sure bad practices don't make their way into your testing routine.
Be mindful of accuracy. A number of factors can affect the accuracy of your equipment. Avoid damaged or outdated test strips (don't use them), extreme temperatures, dirt, or other substances on your hands, and testing while you are dehydrated.
Test your equipment. If you get an unusual result, use control solution to test the glucometer. You'll also want to do this if you drop your meter, and every time you open a new container of test strips. You're basically performing a glucose test but using control solution instead of your blood on the strip.
Sync your equipment. The best way to make sure your equipment is testing properly is to take your own monitor with you when you visit the doctor. Check your glucose with a fingerstick and test strip at the same time the nurse takes your blood for lab testing.
Report problems. If your equipment does not appear to be working properly, advise the provider or vendor. You may wish to report any issues to MedWatch, a voluntary government reporting program, at https://www.fda.gov/safety/medwatch-fda-safety-information-and-adverse-event-reporting-program
Review the bells and whistles. If you've been using the same glucometer for a long time, you may be surprised to learn about the cool new features some offer. Examples are backlit screens, data memory, strip storage, and recording of carbs and insulin.
Avoid pre-owned test strips. Some companies sell unused strips that have been previously owned at a lower price. The U.S. Food and Drug Administration urges consumers to avoid these, as they can be unsafe, and may provide incorrect readings.
Understand your coverage. Private insurance, Medicare, and Medicaid typically pay for glucose monitoring supplies with a doctor's prescription, but some brands and models may not be covered. A Home Care Delivered diabetes specialist can help you find a device that is right for you and covered by your insurance plan.
Go easy on yourself. Glucose readings can trigger strong responses and leave you feeling upset or frustrated. Remember that your numbers are not a judgement about you. They are a way of knowing how well your care plan is working, and a tool for making improvements.
Ask a member of your healthcare team to watch you test yourself. This is a great way to make sure bad practices don't make their way into your testing routine.
Ready to Ship!
Good glucose monitoring equipment, and a good understanding of how to use it, is essential for diabetes management. Home Care Delivered makes it easy to get the glucometers, lancets, and test strips you need. Depending on your needs, you can order monthly, or just let us know when you're running low and we'll get a discreet brown box in the mail to you.
If you're new to our award-winning service, you may not know that we handle communication and paperwork with your doctor and insurance provider. That means less stress and hassle for you! We have diabetes experts on staff, including a Certified Diabetes Care and Education Specialist, who oversees all of our diabetes supply orders and a library of helpful blogs on topics such as How Does Exercise Help Diabetes and Essential Tips for Travelling when You Have Diabetes.
It's easy to sign up by phone with one of our knowledgeable customer service specialists at 804-885-4101. Or, simply enter your phone number on the bottom left of the screen and we'll call you!
Monitor your blood sugar like a boss and stay in range with support and supplies from Home Care Delivered!
Disclaimer:
Unless otherwise noted, the recommendations in this document were obtained from the sources indicated. Be advised that information contained herein is intended to serve as a useful reference for informational purposes only. HCD cannot be held responsible for the continued accuracy of or for any errors or omissions in the information. All trademarks and registered trademarks are the property of their respective owners.