Incontinence Supplies for Children with Special Needs
For many families, childhood incontinence issues don't end with potty training. Many families struggle with conditions associated with incontinence management. These can be challenging, but having the right support and products can make a world of difference. Thankfully, most Medicaid plans cover incontinence supplies. If you're eligible, getting them delivered to your home from a trusted supplier is easier than ever.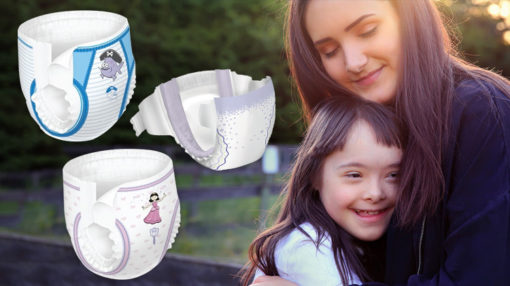 Special Needs and Incontinence
Every child is different. Not all children with special needs experience serious incontinence issues. However, some children may face incontinence issues related to certain physical or developmental conditions.
Five of the most common conditions associated with incontinence in children are:
Autism spectrum disorder
Cerebral palsy
Down syndrome
Multiple sclerosis
Paralysis/Spinal cord injury
Incontinence can vary by child, just as each child is unique in their own way. They can include difficulty during potty training, extended childhood incontinence, and incontinence that extends into adulthood. Understanding their needs and treatment options will help reduce stress for families and create a better quality of life for children.
The 5 Ps
What are the "5 Ps"? The National Association For Continence (NAFC) developed "The 5 Ps" to help guide parents and caregivers through the process of treating incontinence in children with special needs. Use these encouraging reminders when handling incontinence in your family. They are:
Patience: Setbacks will happen, but don't blame yourself. Remember to stay calm and keep a sense of humor.
Persistence: Each victory is important no matter how small. Set reasonable goals and stay positive.
Planning: Set a routine and expect surprises. Maintain discipline and communicate your plans to caregivers.
Practice: Every child is different. Try and test things to see what works for your child and what doesn't.
Progress Is Possible: Even if incontinence stays with your child for life, there are always positive ways to progress and make life easier and more comfortable.
For more information about the 5 Ps and continence support for children with disabilities, download their guide here.
Choosing the Right Incontinence Products
Every child is different, and one size doesn't fit all. That's why HCD carries a wide range of options for children and adults at every stage of life and absorbency needs. Incontinence supplies for children are typically sized based on weight, and adult supplies are sized by waist size, or height and weight
The following are only general guidelines and your child may have different needs. If you need a suggestion, our team of experts can give personalized recommendations. Each month we'll follow up with you to make sure the products are meeting their needs.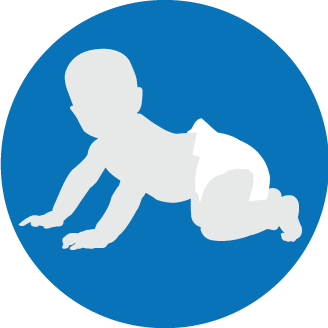 Child Diapers
Approx. 6-41 lbs
Sizes: NB – 7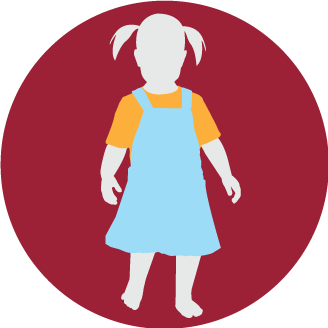 Training Pants
Approx. 32-40 lbs Sizes: 2T – 5T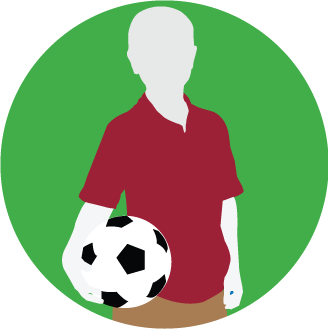 Youth Pants
Approx. 38-140 lbs Sizes: S – XL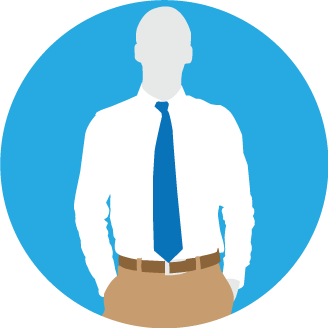 Adult Products
Sizes: 15" – 100" Waist
Types of Incontinence Products
Baby Diapers
Baby Diapers are designed for newborns and infants to help manage all levels of urine and fecal output. They are made with absorbent polymer layers that provide full area coverage and maximum absorbency and can fit comfortably under clothing. For children approximately 6-41 lbs. Baby Diapers are not covered by most Medicaid plans except under some extreme circumstances.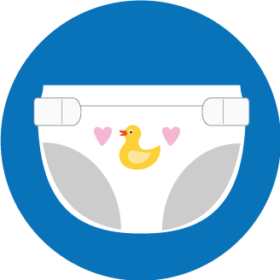 Training Pants
Training Pants are made from similar materials as Baby Diapers but are designed to fit like underwear. They help manage both urine and fecal output and provide full area coverage in a "pull-on" shape. They can fit comfortably under clothing. For children approximately 32-40 lbs.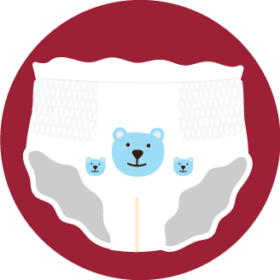 Youth Pants
Youth Pants are similar to training pants in their shape and absorbency, but are designed to be used primarily at night. They provide full coverage and absorbency for both urine and fecal output, and can fit comfortably under clothing. For children approximately Approx. 38-140 lbs.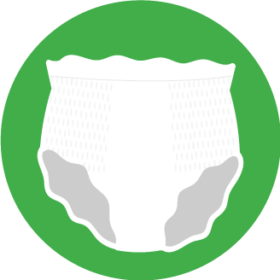 Adult Products
Bladder Control Pads: Thin, absorbent pads for handling light output of urine. They are worn underneath underwear.
Protective Underwear: Pull-on products for moderate urine leakage that can replace underwear and fits underneath clothing.
Adult Briefs: For heavier outputs of urine and any level of fecal incontinence. They provide the most area coverage, but can still be worn underneath clothing.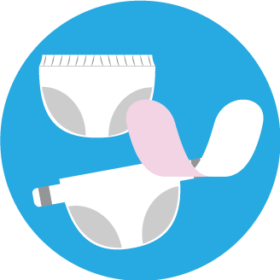 Most Medicaid plans cover incontinence supplies.
Getting Medicaid-Covered Incontinence Products
Most Medicaid plans do not cover incontinence supplies for children under 4 years old. If this affects you, contact us to learn more about your coverage options. In order to be covered by most Medicaid plans, incontinence supplies must be determined to be medically necessary by a doctor. Once a doctor has confirmed that incontinence products are needed to manage a medical condition, we'll handle all the paperwork with your doctor and insurance. It only takes a few minutes to enroll your child in incontinence supply deliveries. Enter your phone number in the bottom left of this screen and we'll give you a call.
Why Parents Love Home Care Delivered
Industry-leading customer service: Knowledgeable product specialists and clinical support staff to answer your questions
Insurance Expertise: We can find your coverage quickly to help you avoid out of pocket costs
Convenience: 24/7 reordering with Text-To-Reorder and HCD Online (Wound Care supplies not supported)
Fast and Reliable Delivery: Order delivery within 2 business days for most customers
Product Selection: The brands you already know and trust
National Coverage: Nationwide delivery, and most Medicaid plans supported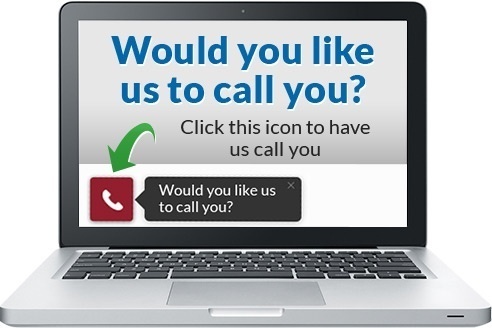 Get Answers & Enroll Now
Enter your phone number to be called in under 1 minute
Disclaimer:
Unless otherwise noted, the recommendations in this document were obtained from the sources indicated. Be advised that information contained herein is intended to serve as a useful reference for informational purposes only. HCD cannot be held responsible for the continued accuracy of or for any errors or omissions in the information. All trademarks and registered trademarks are the property of their respective owners.