Byram vs HCD – Who Is A Better Medical Supplier?
When looking for a medical supplier for yourself or a loved one, don't settle for anything less than the best. So who really provides a better medical supply experience, Home Care Delivered or Byram Healthcare? To find out, we listened to actual customers.
We collected and analyzed hundreds of publicly-available Byram customer reviews and compared them to our own. The results speak for themselves:
HCD Provides a Better Customer Experience Than Byram Healthcare
Publicly available customer reviews show that HCD customers are overwhelmingly happy and satisfied with their experience. The full methodology is below. Byram customers are the opposite. Here's a quick look at the data:
Byram Review Highlights:
79% of Byram's online customer reviews are negative.
On Yelp, 61 customers (out of 70) gave Byram a 1-star rating.
On Better Business Bureau (BBB), 20 (out of 22) customer reviews are
only 1-star. The other 2 reviews are 2-star.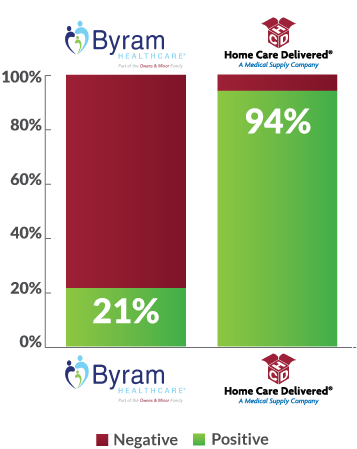 At HCD, we make it our mission to provide the best possible experience for our customers. Our customers receive better care, faster service and deliveries, and fewer hassles than our competitors. To see what Byram customers think about the service they receive, keep reading.
Byram Customers Report Long Wait Times and Unhelpful Customer Support
The first challenge for many Byram customers is simply getting in touch with a customer service representative. Byram customers report long wait times–often up to 45 minutes–just to speak to a live representative.
Once they're connected, there's no guarantee their problem will be solved. Many Byram customers say that they are often transferred from representative to representative without their problems being solved. A single support call could last for hours.
Here's just a sample of some Byram customer reviews:

"Customer service is horrible, you have to wait on hold for over 40 minutes just to deal with someone who isn't well informed. Total time trying to order pump supplies 65 minutes."

"Everytime I call customer service im waiting for a minimum of 45 minutes to speak to a live csr. This is by far the worst company to deal with if you need to speak to a live person."
Byram customers also frequently report rude and disrespectful customer support representatives:

"The complete lack of customer service coupled with some of the most rude people you can imagine, added to their complete disregard of the fact that these supplies are life saving make the continued existence of this company a mystery."
At HCD, we do things differently. Our customers consistently praise our short wait times and quick response. The average hold time for customers at HCD is just 4 minutes. Our customers also praise our customer service representatives. Reviews often refer to our staff as friendly, helpful, and knowledgeable.
How HCD Provides Better Customer Support
Average hold time just 4 minutes
Instant Callbacks in 60 seconds or less
Expert support from Registered Nurses and trained product experts
Compassionate and well-trained customer service representatives

"The customer reps are extremely knowledgeable, and so willing to help. They always make a personal connection which means so much. It is difficult being the caregiver, and I can tell they realize that and they care about what I am dealing with."

"My son is autistic and receives pull ups from you. Everyone has been very polite when I talk to your reps. When your rep tells me he will receive his supply on a certain date, he gets them on that date. I am very pleased with Home Care Delivered. Thanks for all your love and care for my son."
Byram Customers Report Surprise Bills and Incorrect Charges
When it comes to billing, Byram customers often feel frustrated. They report receiving surprise bills, and being charged on their credit cards for larger amounts than communicated. In some cases, Byram continued charging customers out-of-pocket after their insurance coverage ended without informing them. Many customers report being assured that items were covered by their insurance, only to later receive a bill. When a Byram customer receives an incorrect charge, they mention that getting that mistake resolved can take months of back and forth calling.

"They were slow on bills making it hard to keep track of what they were billing me for, and they messed up a bill that has taken me like 10 phone calls to figure out… if I hadn't been doing my paperwork and calls, they'd have taken $300-600 from me that I didn't owe them."

"They mess up my supplies orders, bill incorrectly, don't apply my insurance payment, mis-apply payments to invoices and my personal favorite fail to get the preauthorization paperwork done correctly. I have been chasing them for 7 months about this."

"I received a bill for over twice the stated charge… I then went back and forth with a billing specialist at Byram trying to get the charge corrected. After several months, she basically said it is billed correctly, pay us the money or it will go to collections. Fortunately, I was able to get my insurer to correct the charges, with no thanks to Byram."
Our customers don't have to worry about surprise charges, since we don't require a credit card on file (even when ordering online). If there is an out-of-pocket expense, we do our best to inform customers up-front, before the order is placed. We also proactively communicate with customers every month to make sure insurance and order information is up-to-date. And if a customer ever has a question, they can contact our customer support quickly and easily.
How HCD Takes The Surprises Out Of Billing
No credit card required for ordering
Insurance specialists who explain your product coverage simply
Proactive communication if insurance lapses or potential for out-of-pocket costs
Regular check-ins to help ensure up-to-date insurance information
Quick and accessible customer support to answer any questions

"They save me hundreds of dollars every month since my childs insurance covers diapers and Home care delivered brings them right to me. I am very grateful for this company and they are the most convenient and stress free service that my child receives through Medicaid. I don't know what I would do without them!"

"They take a load off my plate by keeping up with the details and shipment dates, and making calls when items are due. They also do ALL the billing for us. Home Care Delivered has been the biggest blessing in caring for my Mother's needs! Thank each and every one of you! You do excellent work and I am so pleased I found you and chose you!"
Byram Customers Report Wrong Orders and Late Deliveries
Even if Byram customers are billed correctly, there's no guarantee that they'll receive the right products when they need them. Byram customers report inconsistent shipping times, and are often left waiting for unexpectedly long periods of time. If packages are delivered on time, they could contain the wrong items.

"I have had 15 or 20 orders with Byram. They have gotten probably 12 of them wrong. I have never seen anything like it. They must be the only ones in the business, because they act like it."

"If you want your supplies on time every month, don't use this company!! I have problems every month with my catheters, and other things in my order, they don't send them on time, they don't send the right amount, and if there is a problem, they'll never call you to let you know, you have to call them!"
At HCD, we understand that these supplies are crucial to the health and happiness of our customers. That's why we work hard to help ensure that our customers receive the right products, and on-time. In our reviews, customers applaud our reliable and fast deliveries. Our customer service reps proactively communicate with customers to confirm the accuracy of orders. After shipping, most of our customers receive their orders within 1-2 business days.
How HCD Gets Orders and Deliveries Right
Fast and efficient paperwork processing
Early customer notifications for paperwork needs
Order reminders and service calls to help ensure customers never run out of supplies
Regular check-ins to help ensure products are right for you
Nationwide shipping with most deliveries within 1-2 business days

"HCD handles everything. From getting the doctors approval to working with the insurance company. They are very friendly and easy to work with. My supplies are always on time and they make sure I never run out. I would highly recommend Home Care Delivered for all your needs."
The Choice is Clear: For a Better Customer Experience than Byram Healthcare, Choose HCD
There's a reason HCD has earned industry-leading customer satisfaction. We make ordering medical supplies quick and easy, and we always provide exceptional customer support. Want to see how HCD stacked up against the rest of the competition? See why we are the
best medical supplier
. Experience our excellent customer satisfaction for yourself by signing up with us today. In just a few quick and easy steps, we can set up monthly orders covered by your insurance plan.
Start Your Medical Supply Deliveries
Study Methodology
The data used in this study is based on all publicly-available reviews from the companies mentioned in this article, as of February 20, 2019. These reviews came from sites such as BBB, Yelp, Google and TrustPilot.
Once each company's reviews were collected, they were run through the MonkeyLearn sentiment analysis module to determine positive and negative sentiment through their standardized artificial-intelligence based platform.
Disclaimer:
Unless otherwise noted, the recommendations in this document were obtained from the sources indicated. Be advised that information contained herein is intended to serve as a useful reference for informational purposes only. HCD cannot be held responsible for the continued accuracy of or for any errors or omissions in the information. All trademarks and registered trademarks are the property of their respective owners.